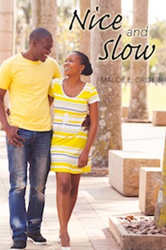 'Nice and Slow' is a standalone contemporary romance novel with a fairy tale ending.
BIRMINGHAM, ALABAMA (PRWEB) February 18, 2016
Maude E. Grider's book 'Nice and Slow' was recently published, available in ebook format. It is a standalone contemporary romance novel with a fairy tale ending. It follows the heroine, young Jasmine Johns, on her journey as she navigates her way from her late teens through young adulthood, overcoming trials and tribulations as she tries to obtain happiness while she pursues a nursing career.
Jasmine encounters many obstacles on her journey to obtain her goal. Her biggest obstacles to her pursuit of happiness and career goal are two Alpha males battling for her attention and love.
As far back as she can remember Jasmine's lifelong ambition has been to become a nurse. At eighteen years old, Jasmine has morphed into a gorgeous young black woman. She is ready to enter college, the first step to pursing her long term goal to become a nurse practitioner, when she meets Paul Shelton.
Paul Shelton is a suave, sexy African-American businessman-entrepreneur who owns a successful soul food restaurant, a legitimate gentlemen's club, and a questionable private escort service. Paul is smitten with the beautiful black beauty Jasmine, and pursues her relentlessly to become involved in his life. His goal is to convince her being associated with his businesses is more profitable than pursuing a college degree.
Paul meets Jasmine when she is eighteen and he is thirty-two. He teaches Jasmine about sex, love, and life. Paul declares his love for Jasmine. But his love is not enough. Jasmine chooses obtaining her nursing degree over being with Paul, and leaves him broken-hearted.
Jasmine completes her nursing degree and lands a job with a prosperous cardiology practice where she encounters Harold Allen. Harold Allen is a handsome, rich, blue eyed doctor who becomes infatuated with Jasmine and tries to buy her affection.
When fate returns Paul back into Jasmine's life, Harold refuses to step aside and allow Paul to resume his relationship with Jasmine. Harold will stop at nothing to keep Jasmine and Paul apart.
Will Jasmine choose Paul, or Harold? Or will she choose neither?
About the author:
Maude E. Grider lives in Birmingham, Alabama. She has always had a fascination with romance and wrote short romantic stories when she was a teenager. She dedicated herself to a nursing career and parenting her two male children. Now she has retired from nursing and spends her time reading and writing.
About eBookIt.com
Since 2010, eBookIt.com (based in Sudbury, Massachusetts) has helped thousands of authors and publishers get their books converted to ebook format, and distributed to all the major ebook retailers, including Amazon.com, Barnesandnoble.com, Apple iBookstore, Kobo, Sony Readerstore, Ingram Digital, and Google eBookstore.
###