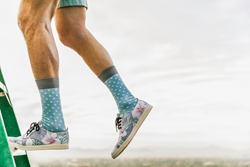 Nice Laundry's desert inspired Spring 2015 designs will bring a little oasis into everyone's lives.
New York, New York (PRWEB) March 24, 2015
Since 2013, men and women searching for a complete sock drawer makeover have looked no further than Nice Laundry. The convenient, affordable online service has made it easier than ever to completely overhaul your sock drawer. Today marks the launch of five new packs of Spring 2015 designs on NiceLaundry.com that will surely help shoppers put their best foot forward this season.
The Spring 2015 collection was designed to take every guy and girl from boardroom to bedroom and back again with a wide range of designs. From a neon-injected take on classic polka dots, to evergreen patterns like argyle in spring-appropriate hues, Nice Laundry has your sock drawer refreshed for a new season.
"Our inspiration this spring was a trip to the Sonoran desert, and the incredible oasis of life that blooms there against all conventions of nature," says Nice Laundry's CEO and Co-Founder Ricky Choi. "It's galvanizing, polarizing and transcendent. Dusty greens, blues and reds fight against the creamy, khaki, sun-baked desert ground, only to be lost every night in thick, tangible darkness. This harmony of symbiotic extremes pushed us the furthest we've ever gone with our design ethos and will help bring a little oasis into everyone's lives."
Nice Laundry pairs are sold in thoughtfully-curated packs of six, making it easy for men and women to quickly and confidently build their sock drawers. Each pack is created with an emphasis on style and utility, combining designs to appeal to personalities from mild to wild, and everything in between.
Nice Laundry's colorful socks are crafted using Microlast™ processing to reduce shrinkage during wash cycles, and Everknit™ toes and heels to prevent blow-outs. Each pack (6 pairs) retails for $49. A complete sock drawer makeover (18 pairs) is just $99. All products include free shipping in the USA, and arrive with a prepaid shipping label for customers to send back their old socks to be recycled as part of Nice Laundry's Virtuous (Re)cycle program.
ABOUT NICE LAUNDRY
Born in a record-breaking Kickstarter in 2013, Nice Laundry is the best way to refresh your sock drawer. Conceived as an alternative to cheap, boring socks, and expensive designer options, Nice Laundry delivers curated packs of premium quality socks straight to customers' doors, and offers a complimentary recycling program to encourage customers to get rid of their old, worn pairs in an environmentally responsible manner. Nice Laundry's signature Sock Drawer Makeover was quickly named "Steal of the Week" by the Wall Street Journal. For more information, please visit http://www.nicelaundry.com.