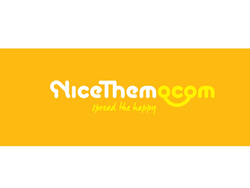 I was tired of businesses receiving all of the recognition that is due to the individual employees -Matt Friedell, Nice Them Founder
Denver, CO (PRWEB) June 17, 2014
Two Active Duty Marines have pulled from their war-fighting skills to declare war on what these two believe is a grave national threat, widespread negativity. Forming the startup (Click for Site), Matthew Friedell, Founder and Anthony Ambriz, Technology Officer, both Commissioned Officers in the Marine Corps, were fed up with the negativity that has accompanied many reviews on other review websites. They were also inspired by the military's award system where Marines are recognized in front of their peers for what they did with no knowledge of who wrote the award.
Their "Nice Them" app, which has already sent over 130 compliments and certificates, has no space for negative comments. The app is only focused on individual employees and people, not the business they work for. "We began with the idea of making the actual act of saying thank you easy and accessible to everyone." said Friedell. The reception of the idea has been nothing short of revolutionary. This app enables a customer to speak directly yet anonymously to the employee who has made their day a little brighter.
The Nice Them system begins with a customer / employee interaction and the customer would like a way to voice their appreciation. The customer then utilizes Nice Them's app or mobile site to input the employee's name, their place of work, and what they did that was so great. (Google Play Store Link)
Great businesses are made up of great employees. "I was tired of business receiving all of the recognition that is due to the individual employees," said Friedell. With the "Nice Them" compliment, a person feels appreciated in a way that a monetary tip does not. In addition, many tips are now pooled across an entire business and divided between the entire employee base. Tips have started to loose the personal "thank you" that the once had.
Nice Them falls in line with the social movement of school compliment pages and pairs that with the popularities of anonymous online activity.
After the submission of the Nice Them compliment, a custom, personalized certificate is generated and given to the employee's supervisor to be presented to the employee. This simple, yet powerful act has accomplished its assigned mission. "The people who receive these compliments are very appreciative and humble," said Friedell. "Just imagine how it feels to get a little thank you for what you do day in and day out, it feels good. That's what we want to do, make people feel good, appreciated and ultimately, valued."
The emphasis of this business is saying thank you to anyone, anywhere, not just for employees of retail businesses. Teachers, firefighters and anyone else who have been nice can be anonymously complimented. "I would love to see younger people saying thank you to each other just for everyday events," stated Friedell.
They have also had companies using this as a internal employee recognition system. "A business is able to use our app, for free, to have employees recognize employees." said Friedell. This is very similar to a compliment board posted in the rear of a business for employees. "We wanted to bring compliments out from the shadows and let everyone know about the good things these people were doing, from their boss to the people purchasing a coffee from them."
What about the negative comments you ask? Friedell says, "There are outlets for negative comments already and not something we, as a company, want to be apart of. We ultimately hope that the recognition of great customer service will stamp out bad customer service altogether." Their app and website which have been accepting only positive comments since late 2013 are touted as user friendly and quick to use.
Armed with the latest computer software and trained with the latest in tip-of-the-spear, war-fighting techniques these two Marines are well on their way to decreasing negativity, one compliment at a time. If you would like to join the battle you can visit them at http://www.nicethem.com or http://www.facebook.com/nicethem
Nice Them is a veteran owned and operated business that provides services to acknowledge great customer service and pass on anonymous compliments in the form of custom thank you certificates and notes. They seek to create great customer service through only positive feedback. (http://www.nicethem.com)
Nice Them is a unique website and mobile application that allows anyone to compliment anyone anonymously. Nice Them is the single compliments only feedback site designed to create great customer service through only positive feedback.