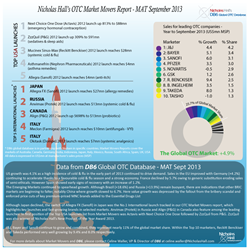 Global OTC market hits 4.9% according to Nicholas Hall's Global OTC Database, DB6
(PRWEB UK) 29 November 2013
Data from the unique OTC database, Nicholas Hall's DB6, has just revealed the latest figures for the 12 months to September 2013 showing the global OTC market is growing at +4.9%.
US growth was 4.1% as a high incidence of cold & flu in the early part of 2013 continued to drive demand. Sales in the EU improved with Germany (+4.2%) continuing to accelerate thanks to a favourable cold & flu season and a strong economy. France declined by 5.7% owing to generic substitution eroding sales of semi-ethicals. However Spain showed early signs of recovery with an increase of 1.2%.
The Emerging Markets continued to spearhead growth. Although Brazil (+18.6%) and Russia (+13.9%) remain buoyant, there are indications that other BRIC markets are beginning to falter, notably China where growth slowed to 6.7%. Here value growth was depressed by the fallout from the bribery scandal and enforced price cuts of key premium-priced MNC brands added to the Essential Drugs List
Although Japan declined, the switch of Allegra FX (Sanofi) in Japan was the No.1 International launch tracked in our OTC Market Movers report, which highlights key launches and fast-growing brands in selected markets. Anvimax (Protek) in Russia and Align (P&G) in Canada also feature among the leading launches. In first position of the Top USA launches list from Market Movers was Actavis with Next Choice One Dose followed by ZzzQuil from P&G. ZzzQuil was also winner of Nicholas Hall's New Product of the Year Award 2013.
J&J, Bayer and Sanofi continue to grow and combined, they represent nearly 11% of the global market share. Within the Top 10 marketers, Reckitt Benckiser and Takeda performed very well growing by 9.4% and 8.0% respectively.
For more information about DB6 and the OTC Market Movers Report, please contact Celine Waller, VP & Director of DB6 at celine.waller(at)NicholasHall(dot)com.
About Nicholas Hall & Company
Since 1978 Nicholas Hall & Company has offered comprehensive OTC marketing and business solutions. Specialising in OTC, our consultants and market analysts have many years of experience while our international network of contacts means we can offer strategic advice, data & analysis and competitive intelligence on a global scale.
Nicholas Hall's DB6 Global OTC Database is a unique database dedicated to OTC consumer healthcare. Used by most of the top pharmaceutical companies, the sales database is further enhanced with a partnership with Nielsen who has licensed its entire OTC market data. For more information about DB6 or to see a demo, please email Kayleigh Griffin-Hooper at kayleigh.griffinhooper(at)NicholasHall(dot)com.
Details:
Media contact: Valerie Tsang, Group Director of Marketing & Sales, val.tsang(at)NicholasHall(dot)com, +44 01702 220 223
Website: http://www.NicholasHall.com
Twitter: @nicholashallco