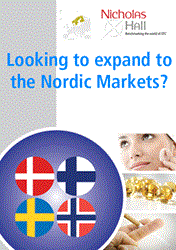 (PRWEB UK) 29 August 2013
The Nordics are some of the most dynamic OTC markets in Western Europe. Their retail landscape has changed markedly as the strong pharmacy monopoly model crumbles: Norway deregulated in 2001, Sweden in 2009 and there are calls in Denmark to follow suit.
Mass market outlets are gaining prominence. In Denmark controversial new guidelines since 2010 have made it easier for OTCs to move to general sale. Norway has expanded the number of mass market OTCs since their introduction in 2003. In 2009 Sweden introduced a GSL, but self-selection is still restricted to pharmacies, indicating scope for future progress. Even in Finland – the most conservative of the Nordic markets in OTC retail – NRT has been available outside pharmacies since 2006.
Meanwhile, proposals in Norway in 2013 open up the potential for Pharmacy Point of Care, with the suggestion that services like monitoring blood sugar and blood pressure levels be the domain of the pharmacist rather than doctor.
Nicholas Hall's forthcoming report OTC in the Nordic Markets: A guide to the OTC markets of Denmark, Finland, Norway and Sweden will cover the four key countries in this exciting region, providing in-depth analysis, investigating regulatory changes, profiling key marketers and highlighting M&A opportunities. Each country is available as an individual module, or choose the full report for a comprehensive overview. The report will published in late September.
About Nicholas Hall Reports:
Our reports draw on the in-house expertise of our specialist analysts and researchers, on the-ground knowledge from our Network Partners, and Nicholas Hall's unique insights, plus the latest sales data from our DB6 global OTC database. Each title provides in-depth analysis, identifies major trends and developments, highlights consumer preferences and forecasts future trends.
View Nicholas Hall's Reports Library: http://www.nicholashall.com/nicholas-hall-reports/reports/ .
Contact:
Valerie Tsang, Group Director of Marketing & Sales
val.tsang(at)NicholasHall(dot)comCompany
Website: http://www.NicholasHall.com