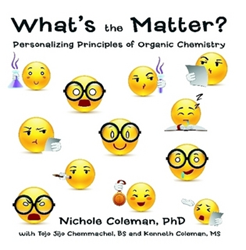 SAN FRANCISCO (PRWEB) December 19, 2015
Focusing on the humanistic similarities to chemistry, "What's the Matter? Personalizing Principles of Organic Chemistry" (published by Lulu) uses everyday imagery to personalize organic chemistry principles to help students understand how atoms behave and molecules feel. It works to help students and those interested in chemistry understand basic principles through metaphor and analogy.
"I was in love with the sciences as a child, especially astronomy and biology," author Nichole Coleman, PhD, explains. "I wanted to write a book that used everyday imagery to personalize organic chemistry in a way that would help a student understand not only how atoms behave but how atoms and molecules feel."
Utilizing visual metaphors and real-life analogies for periodic trends, organic mechanisms and spectroscopy, "What's the Matter?" shapes students' understanding of the concepts and ideas they will encounter in their curriculum and can help them gain a level of mastery over these principles.
Coleman hopes her readers will see: "Science is not boring but in fact very fun to learn and teach if one uses analogies of the world around us."
"What's the Matter?"
By Nichole Coleman, PhD
Softcover | 8.5 x 8.5 in | 80 pages | ISBN 9781483441108
E-Book | 80 pages | ISBN 9781483441092
About the Author
Nichole Coleman, PhD, is an adjunct professor at San Francisco State University and University of California, Berkeley, where she teaches organic and clinical chemistry, respectively. She enjoys interacting with students, teaching and writing with humor. Coleman and her husband, Kenneth, reside in San Francisco with their two boys. This is her first book.
Lulu empowers people of all ages to explore and express their interests, passions and expertise through books, photography and art. Since introducing self-publishing in 2002, Lulu has empowered creators in more than 225 countries and territories to produce nearly two million publications. Lulu Jr. allows children to become published authors, encouraging creativity, strengthening literacy and building self-esteem. Picture.com offers professional photography of collegiate and professional sports, memorable and historic events, fine art and home décor. For more information, please visit lulu.com.