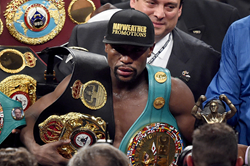 For as brilliant a boxer as he is, Mayweather may be an even better business, promotional and marketing wizard.
Boca Raton. FL (PRWEB) June 28, 2016
Nick Passalacqua, a pioneer in the lead generation field and the founder of Quotelogic.com, has published a new article highlighting three traits that he has in common with boxing legend Floyd Mayweather. The article is available on the Quotelogic.com blog.
"Floyd Mayweather is considered as the greatest boxer of his era, and pound for pound, arguably the greatest fighter of all time," commented Nick Passalacqua, who also counts Nicolas Tesla among his role models. "He has generated more than a billion dollars in pay-per-view revenue in an era when boxing has taken a back seat to many other sports like football, basketball, baseball, and even MMA and UFC. All of this suggests that for as brilliant a boxer as he is, Mayweather may be an even better business, promotional and marketing wizard."
With respect to how Mayweather inspires him on a daily basis both personally and professionally, in the new article Nick Passalacqua points to three specific factors: personal leadership, no-nonsense approach, and strategic selection.

Mayweather personally leads his business, and is credited for the skyrocketing success of Mayweather Promotions. In the same light, Nick Passalacqua personally connects with each Quotelogic.com client to fully understand their needs, goals and lead generation objectives. He's also directly and primarily responsible for his company's ongoing success and growth.
Mayweather's direct and no-nonsense approach is rooted in transparency. He refuses to tell people what they want to hear, but instead tells them what he knows -- even if it's not agreeable to his audience. In the same way, Nick Passalacqua stands out in the lead generation industry because he refuses to deliver leads that are not highly qualified and derive from Tier 1 portals. He also only charges clients based on the number of leads, which means that like Mayweather, he doesn't just make promises: he stands behind them and delivers.
Mayweather has always carefully selected his opponents, and won't get in the ring with just anyone who wants to grab a headline or make a buck. He thinks big picture and long term, and strategically selects who he wants to share the spotlight with. Similarly, Nick Passalacqua is highly selective about the clients that he adds to the Quotelogic.com roster, because he wants to ensure that they are going to succeed and thrive. This policy is a major departure from most lead generation consultants and firms, who eagerly accept anyone with a credit card. They are only focused on revenue. Nick Passalacqua, however, is all about results.
As noted, the full text of Nick Passalacqua's new article that highlights three traits he shares with boxing great Floyd Mayweather is available on the Quotelogic.com blog.
For additional information, including new client inquiries or media requests, contact Quotelogic.com at (888) 203-4300 or email info(at)quotelogic(dot)com.
About Quotelogic.com
Led by CEO Nick Passalacqua, QuoteLogic.com is an advertising and lead generation company. With over 20 years combined senior management experience, QuoteLogic.com is a sophisticated group of advertising experts that take a scientific approach to lead generation. The company provides high quality leads for mortgage, personal loan, life insurance, and auto insurance verticals. They also offer a variety of lead generation products including web, live transfer, voice-to-data leads and pay per click models. Learn more at http://www.quotelogic.com.