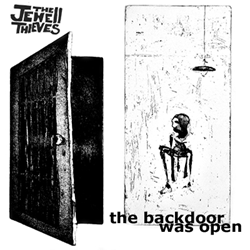 We are definitely expanding our sound and the more we play together there is a progression to push the envelope further out of our comfort zone
Boston, Massachusetts (PRWEB) September 01, 2015
The Jewell Thieves, Mike & Nick Jewell, a Boston MA, independent alternative rock band, are proud to announce that lead singer, Nick Jewell, turns 11 years old this month. To celebrate his birthday the Jewell Thieves have released two new singles from their upcoming EP, The Back Door Was Open.
The first is an infectious, groove driven single, Wait . . . What the . . . ?, which is available exclusively on the Web site. The new single offers equal measures of trip-hop and rock, creating a sound that will get your foot tapping and your head bobbing.
The second single, which is also available on the Web site, Drive Alone Endless Highway, is a streaming single, having been released through TuneCore and can be found on iTunes, Spotify, Amazon Music, Google Play and many other stores. This song is a departure from previous singles, bringing in new, different electronic sounds to the composition and varying layers of feeling that take you on a journey, on the endless highway.
About the Jewell Thieves & Visionary[s]
The Jewell Thieves are a father and son, independent, Boston-based alternative rock band, bringing attention to 11-year-old singer, Nick Jewell and a mix of music styles that make listening to independent music fun. What started out as a side project turned into an opportunity for us to learn, create and entertain friends, family and fans together.
Visionary[s is an outsourced marketing and communications service that creates and executes strategies that generate growth and awareness for a variety of clients.