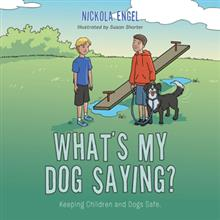 PETERBOROUGH, England (PRWEB) January 12, 2016
After seeing numerous media reports of children being attacked by dogs, author Nickola Engel decided to write her first illustrated book, "What's My Dog Saying?: Keeping Children and Dogs Safe" (published by AuthorHouse UK).
The storybook is about friends Sam and Josh. Sam teaches Josh how to behave around dogs to combat Josh's fears. Some tips are to be gentle; never disturb dogs when they're eating or sleeping; never to shout or hit at a dog; watch for signs of distress, as well as other valuable lessons.
Engel paid close attention to how children interact with dogs in her day-to-day life as a dog trainer and canine behaviorist. That's when she started noticing patterns and gathering tips to teach children to be safe, which keeps dogs safe, too.
"It teaches children how to behave around dogs and what to look for in a dog's body language in order to keep them safe around each other," Engel says. "It is my firm belief that children should be taught how to behave around dogs in order to have a happy, safe relationship together."
"What's My Dog Saying?"
By Nickola Engel
Softcover | 8.5 x 8.5in | 42 pages | ISBN 9781504995344
E-Book | 42 pages | ISBN 9781504995351
Available at Amazon and Barnes & Noble
About the Author
Nickola Engel has worked with dogs since she was 16. She owns and runs her own dog training business, called Woof Welfare.
AuthorHouse UK Ltd., is an Author Solutions, LLC, supported self-publishing services and a leading provider of self-publishing, marketing and bookselling services dedicated to serving authors throughout the United Kingdom. AuthorHouse UK is committed to providing authors the best self-publishing experience through a wide array of products and services designed to help individual authors realise their unique creative vision. AuthorHouse UK consultants provide guidance to authors throughout the self-publishing process. To date, AuthorHouse UK has released more than 6,500 titles. For more information or to begin publishing a book today, visit authorhouse.co.uk or call 0800 1974150 or follow @AuthorHouseUK on Twitter for our latest news and updates.