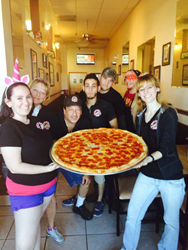 It's been an honor to serve the Plant City community the finest pizza around.
Plant City, FL (PRWEB) April 05, 2016
Nick's Pizzaria & Wings is marking a decade as a preferred Plant City pizzeria, and four years since purchased by owner, Jim Sparks. "It's been an honor to serve the Plant City community the finest pizza around," said Sparks, who has seen a 100 percent increase in business since taking over.
Sparks began his business venture with the idea of not competing with the chains. His innovative idea is to allow patrons to make the same kind of pizza they would make for themselves at home. He also frequents the local farmer's market to purchase nothing but fresh produce.
"Another thing that makes our pizza rise above the rest is that Nick's uses a reverse osmosis filter system for the water used to make the dough, as the dough rises better and has more flavor in the crust," said Sparks. "That kicked it up a notch. Our entrees are also very popular, and all homemade."
Furthermore, Nick's is revered for its wings, selling about 3,000 per week and also makes all of its own sauces, fifteen in fact. Its mild sauce is sold in mason jars. "People will come in just to buy the sauce," said Sparks.
About Nick's Pizzaria & Wings
Nick's Pizzaria & Wings is a family-friendly restaurant specializing in pizza, wings, sandwiches, salads and appetizers. They offer dine-in service with approximately 30 seats, carryout, delivery and catering. For more information, please call (813) 757-5900, visit http://www.nickspizzaplantcity.com or check out Nick's Pizzaria's Facebook Page. The restaurant is located at 1707 James L. Redman Pkwy., Plant City, FL 33563.
About the NALA™
The NALA offers small and medium-sized businesses effective ways to reach customers in the digital age, while providing a single-agency source that helps them flourish in their local community. The NALA offers its clients an array of marketing tools from press release campaigns and social media management to a cause marketing program. The NALA's mission is to make businesses relevant and newsworthy, both online and through traditional media, by providing increased exposure at reasonable costs. For media inquiries, please call 805.650.6121, ext. 361.