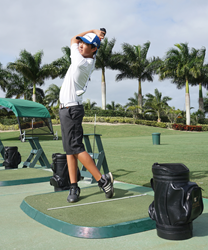 "Nick's experience on the golf course is tremendous. It's always a thrill to have kids shoot with a real champion and have him give advice to young aspiring golfers." said Darryl Jack, Director of Golf and PGA Professional at Wycliffe Golf & Country Club
Wellington, FL (PRWEB) January 01, 2016
MEDIA CONTACTS:
Cheryl Loder
561.964.9200 | c.loder(at)wycliffecc(dot)com
Brad Lieberman
561.964.9200 | b.lieberman(at)wycliffecc(dot)com
FOR IMMEDIATE RELEASE:
"Junior Golf Champion Nick Staub Works with Young Aspiring Golfers at Wycliffe Golf & Country Club"
Wycliffe Golf & Country Club, a premiere residential private residential golf community, recently invited 12-year old Junior Golf Champion, Nick Staub to the Club as part of Wycliffe's Kid's Week. This is a time where members' have their grandchildren and children visit Wycliffe and enjoy activities designed for them. Being a private golf and country club, we wanted to have them showcase their skill-set and enjoy themselves while getting tips from a Junior National Champion.
Nick holds over 92 title's in his junior event division, including a U.S. Kids Golf World Championship when he was only 8 and the 10-11 division of the prestigious South Florida Doral/Publix Junior Classic in December 2012, where he shot an outstanding 72-73 to win by seven shots.
Starting out on the West Course, at the 9th hole, Nick greeted each group of kids who came in golf carts with their parents and grandparents to see Nick hit one across the lake and onto the green. The best part was each child had the opportunity to talk with Nick, get some wonderful pointers and then shoot a ball with him. Each child loved the chance to talk to a real pro and ask questions such as "How do I hit the ball as far as you?"
"Nick's experience on the golf course is tremendous. It's always a thrill to have kids shoot with a real champion and have him give advice to young aspiring golfers." said Darryl Jack, Director of Golf and PGA Professional at Wycliffe Golf & Country Club
"Nick is a first-class player in the game of golf. For him to spend time with these kids, giving them pointers on how to become a better player is a fantastic opportunity for Nick and our Club. It's always a pleasure having him with us." said Paul Rifenberg, Head Golf Professional and PGA Member at Wycliffe Golf & Country Club
About Wycliffe Golf & Country Club:
Wycliffe Golf & Country Club is a private golf community real estate property that offers luxury living for its club members. Located in Wellington, FL, the gated community boasts lush landscapes that host impressive homes, two 18-hole golf courses, 16 Har-Tru tennis courts, state-of-the-art Fitness Center and Spa, numerous activities and clubs, as well as an expansive clubhouse with two dining venues. For more information, please visit http://www.wycliffecc.com or contact Wycliffe's exclusive on-site realtor, Jim Wagner at 561-868-4557.