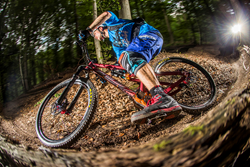 Our goal is to make riding better and riding products better and not just by putting a better decal on - we want better technology.
Los Angeles, CA (PRWEB) June 03, 2014
Nicolai USA is proud to announce that Nicolai bikes are now available for ordering and delivery nationwide through Nicolai USA and dealers. Nicolai USA brings the German craftsmanship of Kalle Nicolai to the U.S. with a unique philosophy.
In an interview with Red Bull, Kalle Nicolai said; "Our goal is to make riding better and riding products better and not just by putting a better decal on - we want better technology." Nicolai bikes feature a variety of advanced frame designs and technology in order to provide the optimum results in off-road mountain biking.
One of the most popular Nicolai bikes available is the Nicolai Ion 16 enduro model. The first ION16 was introduced at the Eurobike 2013. The new kinematic works; the bike responds immediately. Every single push on the pedals results in acceleration. Shock tuning has been optimised. The back of the bike responds sensitively whilst remaining sturdy in travel.
PinkBike.com recently reviewed the Nicolai Ion 16 and said "it seems almost unfair to compare it to virtually any other 160mm bike." The Ion 16 proves that German Handbuilt Quality is still the best in the world. With Nicolai producing the bike all in house from tip to tail the bike is the ultimate enduro bicycle in the world. Riders have been ordering the bike for the past year and have no problem waiting in line while their custom Ion 16 is in production.
The next family member to the Ion 16 is the Ion 20 Downhill bike. The Ion 20 Downhill Bike was introduced recently with the Effigear and Gates Carbon Drive. With no derailleur to smash on rocks and no greasy chain to maintain, this big-hit full suspension bike is clean, quiet, low-maintenance and extremely durable. This type of innovation is what has made Nicolai apparent in World Cup Finals. Most recently Nicolai Ion 20 was named one of the Dirt 100 featured best downhill bikes of the year. This bike will be on display at Interbike 2014.
Nicolai bikes are known for their Gearbox bikes. One of the most popular is the Helios AC. The Helios AC with Pinion feels just as good on a mega avalanche as it does on fast flat trails. made with a 140mm fork, sturdy tires and a lightweight construction of around 12kg as well as with a 160mm fork and fat studs at 14kg.
The relationship between Gates Carbon Drive and Nicolai is evident in how easy both Nicolai frames and Gates belt drives can be applied. The technology behind Gates Carbon Drive is rooted in high horsepower motorcycles and dragsters. This high performance technology has been perfected for a wide variety of bicycles. At the core of the drive is the CenterTrack belt. Made in the USA, this 11-mm pitch, carbon-fiber belt is stronger than and as efficient as a traditional bike chain. The drive is completed with innovative sprocket designs and your choice of internally-geared or single-speed applications. The patented Gates Carbon Drive gives you a longer-lasting, lower-maintenance drive, and most importantly, an unbelievably awesome ride.
To order Nicolai bikes online or request to become an authorized dealer of Nicolai USA, please visit: http://www.nicolai-usa.com/
About Nicolai USA.
Nicolai Bikes are considered the most innovative mountain bikes available. Nicolai, "the fact that all of our bicycle frames, down to the smallest parts, are manufactured inside our factory is very important to us." Bike Dealers within the U.S. are encouraged to inquire about opportunities to become an authorized dealer. For more information about Retailing in your area, please contact Nicolai USA at 310-455-6175.