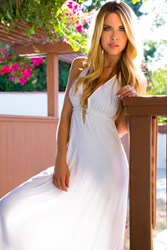 Los Angeles, CA (PRWEB) February 19, 2016
Nicole Andrews Collection now has a Winter Special Offer that can make it even more affordable to update the wardrobe. For a limited time, shoppers can get not just complimentary shipping but an additional 20 percent off all orders with coupon code "Winter20%Off." Choose from a wide range of dresses perfect for all seasons and easily dressed up or down.
Every wardrobe can benefit from the addition of new statement pieces or staples, and dresses from Nicole Andrews Collection are ideal for a closet update. The dresses are designed to be travel-friendly and easy to dress up or down. Maxi dresses such as the Forever, the Malibu and the Goddess have sweeping hemlines and dramatic details that allow anyone to stand out from the crowd.
The long sleeved wrap dresses from the collection feature classic wrap styling with a sexy twist. These dresses come with a variety of hemlines and sleeve lengths and feature detailing such as ruching that slims and adds alluring curves for a shapelier silhouette. Built-in shelf, push-up or bust-enhancing bras make getting dressed a breeze.
With summer quickly approaching, tank dresses may be looking more attractive to shoppers. Tank dresses help shoppers stay cool while still being dressy enough for an evening out. These dresses work well in all seasons. Add a motorcycle jacket and booties for an edgy flair or a shawl or scarf and heels for date night. Throw on a blazer with ballet flats for an office-friendly look.
About Nicole Andrews Collection
Nicole Andrews Collection is designed by actress Nicole Andrews. "Inspired by the sunny California lifestyle and combined with Hollywood glamour, this brand is sexy, comfortable, and chic. Each piece is travel-friendly and fun for any occasion," the team explains about the upscale line. The Forever, Forever Wrap, Goddess, Malibu and high low dresses are all made with the highest quality materials and designed to be comfortable and travel-friendly as well as chic and sexy. Nicole Andrews infuses each piece with her own fashion flair and offers fun, versatile pieces as well as custom handmade tassels, bracelets and other jewelry.