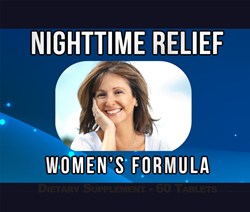 An all natural away to end night sweats
Adel, IA (PRWEB) August 13, 2013
Women between the ages of 35-60 who are struggling with night sweats, hot flashes, interrupted sleep, and other dreaded menopause symptoms can now fight back with new guaranteed-to-work "Night Sweats Relief™" from M&M Beauty and Wellness.
Developed and tested in FDA-approved laboratories, Night Sweats Relief™ eliminates many menopause symptoms by safely, gently and naturally balancing the body's hormone levels.
Plus, Night Sweats Relief™ is easy to digest, contains no artificial colors, and is made with a variety of all-natural extracts and herbs, including: Soy Isoflavones, Black Cohash, Dong Quai, Licorice, Vitex Berry, Red Clover, Sage Extract False Unicorn, Squaw Vine, Blessed Thistle and Red Raspberry Extract Mexican Wild Yam.
"The physical and emotional toll associated with menopause symptoms can be extremely debilitating," commented Gregg Lambi, the Head of Product Development at M&M Health and Wellness. "In particular, disturbed sleep can lead to a wide array of illnesses and ailments, and a virtually immediate reduction in quality of life. Frankly, women face enough stress and pressure as it is, without having to deal with hot flashes, night sweats and more. Now, they can get the relief they need in a formulation that is more effective than Black Cohosh or Remifemin alone."
Night Sweats Relief™ is available on Amazon.com at http://www.amazon.com/Night-Sweats-Perimenopause-Menopause-Effective/dp/B00E3H1ER4/. For a limited time, each bottle sells for $5.00, which is 83% off the regular list price of $29.95. Plus, women can take advantage of Amazon.com's "Super Saver" option and pay no shipping fees.
In addition, women are invited to try Night Sweats Relief™ for 30 days. If it doesn't give them the safe and gentle relief they need from menopause systems, and prove to be more effective than Black Cohosh or Remifemin alone, they can contact M&M Beauty and Wellness for a full refund.
About M&M Beauty and Wellness
M&M Beauty and Wellness, LLC is committed to delivering quality products that support health and well-being naturally. All of the company's products are made in the USA, and in FDA-certified and Inspected manufacturing facilities. Learn more at http://www.mandmbeautyandwellness.com/.
Standard Disclaimer: The statements made in this press release have not been evaluated by the FDA (U.S. Food & Drug Administration). Night Sweats Relief™ is not intended to diagnose, treat, cure or prevent any disease.