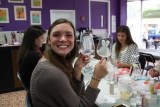 Friends, wine and art are a great combination for a fun evening!
Ferndale, MI (PRWEB) November 19, 2013
Inspiration Uncorked in Downtown Ferndale is celebrating Thanksgiving with a Bar Night Alternative. The art studio invites guests to celebrate with a Buy-One Get-One Free night of classes on November 27th from 5pm to 10pm.
The night before Thanksgiving party at Inspiration Uncorked wraps up the month long BOGO discount. Select from wine glass painting or silk scarf painting classes and make sure to BYOB. Class seating is limited to make reservations online in advance to ensure you can be seated.
Owner Mary Higgins describes the night before Thanksgiving art parties as a fun way to connect with friends and family in town. "The holidays are all about making memories with friends and family. Friends, wine and art are a great combination for a fun evening. Plus you can paint a beautiful scarf you can wear during Thanksgiving festivities the next day."
The art party studio caters to artists of all talent levels, and no previous artistic experience is needed. Guests over 21 are invited to bring their favorite beer, wine, or cocktails. Share a bottle of wine and a light snack while making a unique work of art to take home. The laid-back, artistic environment is a memorable way to celebrate with friends and family visiting for the holidays.
Seating for the Bar Night Alternative is limited. Kick off the holidays right and reserve a spot and take advantage of the BOGO offer. Tickets are available online at http://www.inspirationuncorked.com.
Inspiration Uncorked is an art party studio located in downtown Ferndale, Michigan. The studio offers a large selection of BYOB public and private classes, and provides everything necessary for a creative and relaxing night with friends. Learn more at http://www.inspirationuncorked.com, facebook.com/inspirationuncorked, or on twitter at @ferndaleDIYart.