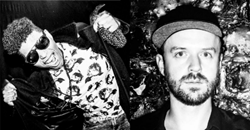 "Over 30 artists have come on board to help us explore what happens when hospitality, theater and music collide." - Alex Gruhin
Brooklyn, New York (PRWEB) January 07, 2016
Musical artists JC Brooks and Jeremy Tromburg of "JC Brooks and the Uptown Sound" and comedian Jeffrey Gurian of Sirius XM Radio and The Interrobang are among the artists headlining performances of "Nightcap Riot: Mombucha," opening January 15th in Greenpoint. "Nightcap Riot: Mombucha" is a concert, world-premiere play and beverage tasting/mixology tutorial...all in one night, in one space, for only 50 people and only 50 bucks. It runs for 16 performances through February 14th.
Per the project's Artistic Director and co-producer, Alex Gruhin, "over 30 artists have come on board to help us explore what happens when hospitality, theater and music collide." Co-producer and actress Ariel Reid adds – "Nightcap Riot: Mombucha will be the ultimate date night and a total night out experience – an opportunity to meet new, creative friends, to play with artists, drink delicious craft artisanal NYC nightcaps and see incredible theater and music." Gruhin and Reid are both graduates of Cornell University's School of Hotel Administration.
Additional artists scheduled to perform during the course of the run include the creator and founding producer of "Monday Night Magic" Michael Chaut, comedian and magician Harrison Greenbaum from Last Comic Standing, soul band Douglas and the Goodharts, comedians Eli Yudin, Katie Hannigan, Ryan Stanisz and Ben Rosen, magician Jon Tai, TJ Byrnes' Transmission Party, Natti Vogel, The Foxfires, SisterMonk, Evan Nachimson, Stephen Babcock, Twiga, Fat Heaven, Cook Thugless, Hello Beddo, Tina Fantasy and Ravish Momin's Tarana with trombonist Rick Parker.
The experience includes access to a curated cocktail program by Marta's John Livanos, a full theater production of Jim Knable's world-premiere adaptation of a George Bernard Shaw play directed by Bruce Levitt and a kombucha tasting and "how to make your own kombucha" tutorial by Mombucha's Rich Awn.
All performances are held at Magick City, the home of Mombucha kombucha at 37 Box Street, Brooklyn, New York. Performers are subject to change.