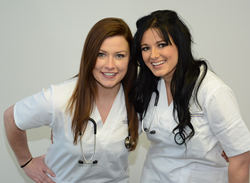 Nightingale College specializes in providing solutions to nursing shortages for rural and underserved communities.
BOULDER, Colo. (PRWEB) July 22, 2019
Nightingale College, a fully accredited distance learning nursing school, is thrilled to announce the expansion of its blended-distance bachelor degree nursing program in Colorado Springs and Boulder, Colorado. Enrollment is now open for the Fall Semester in both locations.
Demand for nurses is high and steadily increasing. The average wage for a Colorado RN is $72,570. Nurses with a BSN average more than $86,000 annually. A recent Colorado Springs Independent news article highlighted the troubling nursing shortages in Colorado. The article reports the nursing shortage will be further impacted due to a 29 percent growth in Colorado's 65-and-over population between 2010 and 2015. This demographic trend is present in the health care field as well. Many nurses are nearing retirement, 35 percent of the state's nurses are over age 55.
Nightingale College is prepared to meet the demand for nurses and has pioneered a unique approach to distance learning through a Dedicated Distance Cohort (DDC) Model that combines local experiential learning with online coursework to equip the next generation of nursing professionals. The College partners with health care networks that dedicate space for an experiential learning hub, where learners acquire nursing skills through practical simulations.
"Nightingale College specializes in providing solutions to nursing shortages for rural and underserved communities," said Jonathan Tanner, Vice President of Partnerships for Nightingale College. "We are excited to offer our nursing programs in Colorado."
Nightingale College offers a 32-month Bachelor of Science in Nursing (BSN) blended-distance program designed for quick access with three starts per year. The first start in Colorado will be Sep. 2, 2019. The deadline to apply is Aug. 1, 2019.
Colorado is also one of 14 states approved to offer Nightingale's 12-month RN-to-BSN Program. This option is tailored to working nurses and is 100 percent online.
For more information, please visit https://nightingale.edu/ or call 801-689-2160.
ABOUT NIGHTINGALE COLLEGE
Nightingale College creates avenues to accessible nursing programs with its fully accredited distance education associate and bachelor's degree nursing programs. Supporting the growing need for nurses and providing strategies to combat the nursing shortage, the College's programs work to not only grow but maintain homegrown nurses with the help of local health care systems. Nightingale College emphasizes graduating future nurses who are confident, competent and compassionate. Since its establishment in 2010 in Ogden, Utah, the College has graduated more than 600 nurses in Utah, Idaho, Wyoming and Nevada. To learn more about Nightingale College, its mission, and programs, visit nightingale.edu.