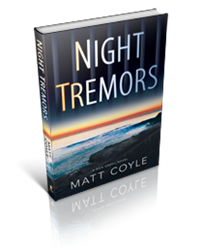 "Following an Anthony Award-winning debut isn't easy, but Matt Coyle slammed a homer. Hard, tough, humane—Night Tremors is outstanding!" —Robert Crais, Anthony, Macavity, and Shamus Award-winning author of Taken and Suspect
Longboat Key, Florida (PRWEB) May 30, 2015
The flawed private eye, Rick Cahill, returns in Night Tremors, by Anthony Award-Winning author Matt Coyle. In 2013, Coyle introduced readers to his imperfect protagonist in the highly acclaimed debut novel, Yesterday's Echo. Night Tremors is the second in what many critics and reviewers refer to as their "favorite new series."
Night Tremors will release in hardcover (ISBN 978-1-60809-149-2, 308 pages, mystery/thriller/detective, $26.95) and all digital reader formats (ISBN: 978-1-60809-150-8, $14.95).
The Story...
Nightmares of the man he killed two years ago still chase Rick Cahill through his sleep. The memory of his murdered wife haunts him during waking hours. His private investigative work, secretly photographing adulterers, paid for his new house but stains his soul.
When an old nemesis asks for his help to free a man from prison, a man he thinks is wrongly convicted of murder, Rick grabs at the chance to turn his life around. His investigation takes him from the wealthy enclave of La Jolla to the dark underbelly of San Diego. His quest fractures his friendship with his mentor, endangers his steady job, and draws the contempt of the Police Chief who has tried to put Rick behind bars forever. With the police on one side of the law and a vicious biker gang on the other, all trying to stop him from freeing the man in prison, Rick risks his life to uncover the truth that only the real killer knows—what happened one bloody night eight years earlier.
The Buzz...
This is shaping up to be one of my favorite new series."
—Son of Spade
"Rick Cahill is not a happy man. The former police officer turned PI still has nightmares about a man he killed two years ago, and he feels that he is responsible for the murder of his wife. Despairing of taking more cases involving the tracking of unfaithful spouses, he decides to help a lawyer he despises free an imprisoned man who may have been unjustly convicted of murder. The case puts him at odds with both the police department and a nasty biker gang and leads to a high-speed chase around San Diego. Solid hardboiled thriller fare."
—Booklist
"VERDICT Coyle doesn't disappoint in this sophomore entry after the Anthony Award–winning Yesterday's Echoes. In this tale we find all the elements that garnered the first book such high praise: complex characters, snappy dialog, a fast-paced plot, and a clever blending of crime noir tropes with today's culture. The gods seem to take delight in persecuting Rick Cahill, but readers will relish this fast-paced and complex whodunit."
—Library Journal
"Night Tremors is Matt Coyle's second superb thriller featuring the flawed, but likable, PI Rick Cahill. Coyle keeps the plot progressing at a solid pace with tight prose and a sufficient amount of unforeseen twists and turns to sustain readers' interest to the shocking conclusion. Fans of PI thrillers, like me, will find Night Tremors an excellent reading experience—and eagerly anticipating the next Rick Cahill novel."
—Fresh Fiction
"In Anthony Award–winner Coyle's extremely dark sequel to 2013's Yesterday's Echo, Rich Cahill, a La Jolla, Calif., PI stuck doing such lowly jobs as photographing adulterous spouses, is drawn to the case of Randall Eddington. Imprisoned in San Quentin eight years earlier, at age 18, for the brutal murder of his parents and sister, Randall may get a new trial if fresh evidence can be verified. The investigation is complicated by the involvement of a vicious biker gang, the ethically compromised cops who may have known that Randall was framed, and Cahill's own obsessive need to study every piece of the puzzle. Most PIs are hyper-competent and tough, but Cahill is fallible and painfully vulnerable—he keeps on trying to do the right thing. Readers should be prepared for a morally ambiguous ending to this sobering crime novel."
—Publishers Weekly
"A terrific new take on classic noir! A P.I. with a conscience grapples with his past, then plots his own brand of justice in Matt Coyle's well-written, twisty and surprising page-turner."
—Hank Phillippi Ryan Agatha, Anthony, Macavity and Mary Higgins Clark award winning author
"Matt Coyle has expanded his substantial talents in Night Tremors, his second mystery. This book matches the quality of Coyle's impressive debut, Yesterday's Echo, and then some. Tight, smart and surprising, Night Tremors, breathes fresh life into the PI tradition and entertains us all the way."
—T. Jefferson Parker, three time Edgar Award winner and author of Full Measure, and The Famous and the Dead
"There are plenty of pretenders to Dashiell Hammett's legacy, but Matt Coyle nails it in his latest. Night Tremors is dark, devious and thoroughly disarming, breathing new life into the hardboiled P.I. genre. Sam Spade would raise a glass of whiskey in appreciation."
—Hilary Davidson, Anthony and Crimespree award-winning author of Blood Always Tells
Meet the Author...
Matt Coyle has a degree in English from the University of California, Santa Barbara. He's taken detours into the restaurant business, the golf business, and the sports collectible business. His first novel Yesterday's Echo won the Anthony Award-Best First Novel, San Diego Book Award for Best Published Mystery and the prestigious Benjamin Franklin Silver Award. Night Tremors is Matt's second novel in the Rick Cahill crime series. Matt lives in San Diego with his yellow Lab, Angus.
Night Tremors is available through your favorite bookseller and public libraries everywhere. Night Tremors is distributed through Midpoint Trade Books, Ingram, Baker & Taylor, OverDrive, Bookazine, and all better literary distributors.