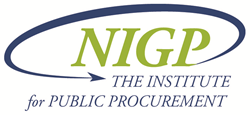 "...The NIGP Accredited Cooperative program and "NIGP AC" mark will go a long way toward overcoming practitioners' confusion and ensuring the integrity of cooperative practices as a long-term, viable procurement option." Rick Grimm, NIGP CEO
Herndon, VA (PRWEB) May 18, 2015
NIGP: The Institute for Public Procurement announces the launch of the NIGP Accredited Cooperative© ("NIGP AC") accreditation program. This unique, first of its kind accreditation supports public procurement professionals' need to quickly identify cooperative programs that consistently practice sound public procurement behaviors.
Public spending through cooperative program contracts exceeded $50 billion. Cooperative purchasing programs aggregate the procurement needs of agencies to leverage collective buying power into more competitive pricing for the required goods and services. This is a valuable time and money saver for public entities and the supplier community as evidenced by federal, state and local governmental and educational institutions that may spend between 5-30% or more of their budgets under procurement authority through cooperative programs.
"Public spending through cooperatives has grown steadily for more than a decade, as has the number of cooperative programs," NIGP's CEO, Rick Grimm, observed. "With expansion in the number of programs, NIGP's members increasingly expressed difficulty distinguishing the value of one coop from another. They have expressed concern whether contracts were consistent with requirements of public procurement agencies, and who was responsible for managing the contract and awarded supplier. The NIGP Accredited Cooperative program and "NIGP AC" mark will go a long way toward overcoming practitioners' confusion and ensuring the integrity of cooperative practices as a long-term, viable procurement option."
To earn the NIGP AC mark, cooperatives will undergo a rigorous evaluation process against 148 criteria across three domains of practice: procurement and contracting processes, procurement agency management, and cooperative program management. Assessment is a two-step process that requires programs to first successfully pass 77 mandatory criteria and then earn passing scores in each of the three practice domains based on 71 scored criteria. Accreditation is awarded for a three-year period and requires ongoing, 18-month mini-assessments to maintain active status.
NIGP offers two accreditation application and award announcement periods each year. The Institute is currently accepting cooperative accreditation applications through June 1.
NIGP Accredited Cooperative criteria and a comprehensive NIGP Accreditation Guide are available for download at http://www.nigp.org/cooperativeaccreditation.
For more information, contact Brent Maas, Executive Director for Business Strategy at coopaccreditation(at)nigp(dot)org .
###
NIGP: The Institute for Public Procurement
Since 1944, the Institute has been developing, supporting and promoting the public procurement profession through premier educational and research programs, professional support, technical services and advocacy initiatives that benefit members and constituents. With over 15,000 professionals from more than 3,000 local, state, provincial and federal government contracting agencies across the United States, Canada and countries outside of North America, NIGP is international in its reach.
http://www.nigp.org.