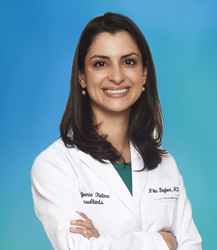 I feel extremely honored to be part of this team
SANTA BARBARA, Calif. (PRWEB) August 15, 2018
California Retina Consultants is proud to announce that Nika Bagheri, M.D. has joined their team of ten vitreoretinal specialists. Dr. Bagheri will help provide patients throughout central and southern California with comprehensive medical and surgical treatment for all disorders of the retina, macula and vitreous.
Dr. Bagheri attended UC Irvine on a full scholarship where she received her Bachelor's degree in Neurobiology. She then went on to receive her medical degree on another full-tuition scholarship from the prestigious Cleveland Clinic Lerner College of Medicine of Case Western Reserve University. Dr. Bagheri then completed her ophthalmology residency at the world-famous Wills Eye Hospital in Philadelphia, where she served as an editor for the best-selling ophthalmology reference, The Wills Eye Manual. She subsequently completed her fellowship training in vitreoretinal surgery at the Bascom Palmer Eye Institute, ranked number one in the country for over a decade.
Dr. Bagheri has published in top ophthalmology peer-reviewed journals including JAMA Ophthalmology and the American Journal of Ophthalmology. She has also traveled to undeveloped areas of Haiti and Peru to offer medical attention to the underprivileged population. She is eager to return home to California and provide world-class care to her native community.
"I am so thrilled to be joining the California Retina Consultants group. Each of the physicians, myself included, are passionate about providing unsurpassed patient treatment for all disorders of the retina, macula and vitreous. So I feel extremely honored to be part of this team," said Dr. Bagheri.
Dr. Bagheri will be seeing patients at California Retina Consultants' Bakersfield, Oxnard, Palmdale, Valencia, and Westlake Village locations.
About California Retina Consultants
California Retina Consultants is a renowned group of vitreoretinal specialists that provides comprehensive medical and surgical treatments for all disorders of the retina, macula and vitreous. They focus on the diagnosis, prevention and treatment of these conditions. Many abnormalities of the retina and vitreous may cause visual loss. These disorders include macular degeneration, diabetic retinopathy, retinal detachment, macular holes, macular edema and epiretinal membranes.
California Retina Consultants has ten ophthalmologists and multiple locations available throughout Central California to serve patients. Locations include Bakersfield, Lompoc, Oxnard, Palmdale, Paso Robles, San Luis Obispo, Santa Barbara, Santa Maria, Valencia, Visalia and Westlake Village.