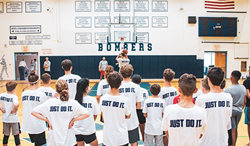 Tyler teaching him drills was so inspiring to him and in a parent's eyes, it means so much that Tyler and all the coaches took time out of their daily lives to teach our kids. I am so happy with the whole experience.
SAN RAFAEL, Calif. (PRWEB) October 08, 2019
With over 21,000 boys and girls, at 403 camps, in 39 states, and an international tour to Spain, it was a year for the books. With all this success, US Sports Camps is hoping to maintain the momentum for an even bigger 2020.
Impressive additions to the 2019 Nike Basketball Camp line-up, as well as many returning camper favorites, helped make this year especially successful. With the expansion of day and overnight girls basketball camps, young female athletes were given more opportunities to train with women's college coaches in a competitive all-girl environment. Girls only camps were added across the country at campuses including Berry College, The Ethel Walker School, and The College of New Jersey.
A mother of a TCNJ camper said, "Kennedy was the youngest camper and didn't know anyone attending the Nike Basketball Camp. The encouraging and supportive environment that the coaches create, made Kennedy feel comfortable. She is a beginner basketball player and has left camp with confidence and excitement."
Notable names were also added to the Nike Basketball Camp coaching list in their Pro Player segment. Pro Player Camps are directed by current and former NBA, WNBA, college and overseas professional players. One exciting addition was NBA player Tyler Lydon of the Sacramento Kings. This summer Lydon directed two camps in his hometown of Syracuse, NY, where campers experienced expert training and received valuable feedback and tips on how to improve their game.
When asked about his son's experience, one father said, "Seeing Tyler meant so much to my son. Tyler teaching him drills was so inspiring to him and in a parent's eyes, it means so much that Tyler and all the coaches took time out of their daily lives to teach our kids. I am so happy with the whole experience."
Hoping to provide more opportunities to younger campers, the Intro to Hoops program was born for new players, ages of 5-7. These beginner basketball camps are a great way to introduce boys and girls to the sport in a supportive and fun environment and work on fundamentals and gross motor movement skills.
A parent of an Intro to Hoops camper said, "The best part of camp was the pleasant introduction to the sport. Avery is my 4th child and from experience, the introduction to a new activity is so important to the way children feel and respond to that activity for the rest of their lives. The entire staff was excellent and did a good job to not baby the kids and make sure to treat the boys and girls the same. It was an overall great experience and I take my hat off to this program. I am looking forward to next summer, 5 stars!"
Nike Basketball Camps also teamed up with the Cavs Academy, the official summer camp operators of the Cleveland Cavaliers, to bring the first ever Cavs Academy Nike Basketball Overnight Camp. Held in Willoughby, OH, boys and girls trained with Nike certified coaches and Cavs Academy coaches in a friendly and focused environment. As a special bonus, each camper also received a ticket to a 2019-20 Cavs game.
To finish off an already amazing summer, Nike Basketball Camps sent four teams to Spain to compete against local competition in Madrid and Valencia. The whole family was invited making this "vacation with a purpose" truly special. While in Spain, campers not only represented Nike Basketball Camps in games, but they partook in culturally enriching experiences with family and friends.
With the new year on the horizon, Nike Basketball Camps is already planning for summer 2020. This includes expanding camps to more D1 schools and sending the Nike Basketball Camps Tour to Sydney, Australia. They listen to campers' feedback and actively expand to new towns and cities, hoping to give kids in all areas of the country the opportunity to build their confidence and improve their skillset in the off season. The summer 2020 camp schedule will be announced in the coming months.
Players, coaches, and parents interested in Nike Basketball Camps can visit http://www.ussportscamps.com/basketball/nike or call 1-800-645-3226.
About US Sports Camps
US Sports Camps (USSC), headquartered in San Rafael, California, is America's largest sports camp network and the licensed operator of Nike Sports Camps. The company has offered summer camps since 1975 with the same mission that defines it today: to shape a lifelong enjoyment of athletics through high quality sports education and skill enhancement.