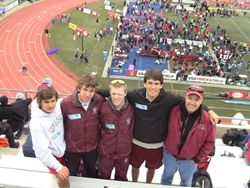 It's encouraging to know that their coaching staff is the same who will lead our campers to improvement this summer!
San Rafael, CA (PRWEB) June 09, 2016
One of the teams at Nike Running Camps' many camp locations is excelling in Track and Field this year. Loomis Chaffee Preparatory School deserves a few congratulations on their achievements this season. The Boys Track and Field Team achieved first place in the Founder's League competition, and the girls placed second on May 14th and 15th. Coach Scott Purdy is very proud of his team, who has won the title 5 times now in the past 6 years.
On May 21st, both the boys and girls teams continued to show their talent and finished well at the Division I New England Prep School Track Association Championships. The boys earned second place, with 69 points, behind Northfield Mount Hermon. The girls placed third in the New England Championships, only 4 points behind the second place team.
"US Sports Camps and Nike Running are thrilled to hear of Loomis Chaffee's success this year. They have always run a strong camp for us and it's encouraging to know that their coaching staff is the same who will lead our campers to improvement this summer!" states Jan O'Connor, US Sports Camps Executive Vice President.
The Nike Track and Field Camp at the Loomis Chaffee School will take place this summer on June 26th-June 30th. There is still capacity for boys and girls ages 10-18 who are motivated to work on their events during the off season. Day, extended day, and overnight attendance options are available. Campers will receive valuable instruction on technique, goal setting, and nutrition. Video analysis will be used to improve form, and all events are offered, with the exception of pole vault.
Space in camp is limited. Secure your spot today. For more information or to register for camp, visit http://www.ussportscamps.com/running or call 1-800-NIKE-CAMP.
About US Sports Camps, Inc.
US Sports Camps (USSC), headquartered in San Rafael, California, is America's largest sports camp network and the licensed operator of Nike Sports Camps. Over 75,000 kids attended a US Sports Camp program in 2015. The company has offered summer camps since 1975 with the same mission that defines it today: to shape a lifelong enjoyment of athletics through high quality sports education and skill enhancement.