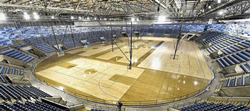 We wanted to give more players the opportunity to work with an experienced coach like Melanie.
SAN RAFAEL, Calif. (PRWEB) October 29, 2019
Volleyball players in the surrounding area will now have a chance to train and work hard with athletes who share their passion for the game. This Missouri volleyball camp is set to run at the state-of-the-art Hy-Vee Arena.
Before converting to a youth sports facility, the Hy-Vee arena was previously a professional sports arena which hosted multiple NCAA Final Four basketball games, professional hockey and basketball teams, and national conventions. Players will train in this 12-hardwood court facility and learn valuable skills from long time KC Fireball Club Director and coach, Melanie Linville.
As an all skills volleyball camp, players can expect to hone their fundamentals and elevate their game to the next level.
"We are very excited to bring a Nike Volleyball Camp to the Kansas City area," exclaimed Siera Love, VP of Nike Volleyball Camps. "We wanted to give more players the opportunity to work with an experienced coach like Melanie."
Under Linville's direction, campers will engage in unique drills in small training groups. Skills such as hitting, serving, and passing, will be covered through various learning progressions, which will help the camper grow in the sport no matter their current skill level.
Camp is set to run June 15-18, 2020 from 9:00-3:00 every day, and is open to girls of all ability levels, ages 10-18.
Players, Coaches, and Parents interested in Nike Volleyball Camps for the upcoming summer can visit http://www.USSportscamps.com/volleyball or call 1-800-645-3226.
About US Sports Camps
US Sports Camps (USSC), headquartered in San Rafael, California, is America's largest sports camp network and the licensed operator of Nike Sports Camps. The company has offered summer camps since 1975 with the same mission that defines it today: to shape a lifelong enjoyment of athletics through high quality sports education and skill enhancement.