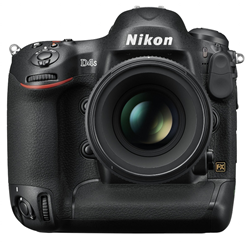 Nikon announces the long awaited D4S next-generation flagship DSLR camera.
NYC, NY (PRWEB) February 25, 2014
B&H Photo is proud to announce the official release of Nikon's new D4S, flagship, top-of-the-line DSLR camera. Read more on the Nikon D4S DSLR at: http://www.bhphotovideo.com/c/product/1024081-REG/nikon_d4s_digital_slr_camera.html.
Following the success of the D4, the Nikon D4S DSLR camera keeps the best features of its predecessor while offering many improvements. Pro shooters are always searching for greater control over their creative process, so Nikon started off with an improved 16.2 MP image sensor, and the upgraded EXPEED 4 image processing sensor. This combo delivers a 30% increase in speed over EXPEED 3; shoot full res JPEGs at 11 frames per second for up to 200 frames, or up to 133 consecutive RAW images - all while maintaining full AE and AF functionality. The new processor also provides enhanced video quality at high ISOs, and supports 1080 60p HD video.
The D4S allows one to shoot in extremely low-light situations like never before, as the new ISO sensitivity range is claimed to produce noise-free images up to ISO 25,600, with an expandable range up to ISO 409,600.
The new ability to shoot small-size RAW images is a huge advantage for photographers who need the flexibility and latitude of editing a 12-bit uncompressed RAW image, paired with a much smaller file size, speeding up the entire workflow.
Sticking to the theme of speed, The D4S lets one focus on the subject faster with the new Group Area AF setting, which combines five AF sensors into a single focus point, while the upgraded 1000Base-T Ethernet port provides 10x faster image transfer than the D4.
For more accurate color, the Nikon D4S DSLR camera has added the ability to spot white balance while shooting in Live View mode, while also adding 3 more white balance presets.
The Nikon D4S hasn't forgotten about the video side of the camera, as they have added a number of features here as well. 60 and 50p have been added to the available frame rates, as well as ISO auto control when shooting in manual exposure mode. One can now choose between FX, DX, and 2.7x crop while using live view mode, and record to a memory card and an external recorder simultaneously. Audio control is important to video shooters, and Nikon has added a selectable audio frequency option, while also letting you adjust audio settings during video capture.
Some other great features are various magnification selections during playback, full aperture metering during live view when shooting still images, and the ability to change the focus point size while in live view mode. Slight changes have been made to the grip and body for improved ergonomics.
The D4S also allows to fine tune the color of your LCD screen, select the image area while in live view for both stills and video, and extend the number of exposures when shooting time lapses from 999 to 9,999, with the added benefit of exposure smoothing.
Last but not least, the updated battery will now allow one to spend more time between charges, giving up to 3,020 shots, up from the previous 2,600 of the Nikon D4.
Read and learn more on the new Nikon D4S DSLR camera at http://www.bhphotovideo.com/c/product/1024081-REG/nikon_d4s_digital_slr_camera.html.
B&H Photo Video is a qualified Nikon Authorized dealer with the most up to date Nikon product information, product pricing and promotional offers. B&H Photo is currently accepting pre-orders on the new Nikon D4S DSLR camera.
Connect with B&H Photo on the web. (Facebook, Twitter, Tumblr, Google+, Pinterest, Flickr, YouTube, B&H Insights & InDepth)
About B&H Photo Video
As the world's largest source of photography, video and audio equipment, B&H Photo-Video is known worldwide for their attentive, knowledgeable sales force, and excellent customer service, including fast, reliable shipping. Visitors to the website can access a variety of enlightening articles and educational videos. B&H has been satisfying customers worldwide for 40 years. http://www.bhphotovideo.com/.
When in New York, take a tour of the B&H Photography SuperStore located at 420 9th Ave. The expo continues all year round at B&H, in the camera kiosks. Featuring the newest cameras, the kiosks are manned by manufacturer representatives who are there to guide and demonstrate the latest photographic technology.With hundreds of products on display, the B&H Photo SuperStore is the place to test-drive and compare all the latest photography gear.