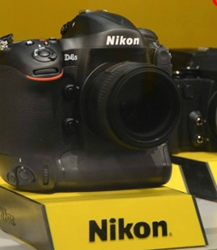 Nikon D4S Digital SLR—Next-Generation Flagship, Now Added to the Nikon DSLR Lineup at B&H Photo Video
New York, NY (PRWEB) January 10, 2014
Nikon has announced the impending arrival of their next flagship DSLR—the D4S. Succeeding the current D4, this new FX-format professional-grade camera will feature "enhanced image quality with the adoption of a new image-processing engine" as well as "more advanced autofocusing performance."
The Nikon D4S represents a concentration of Nikon's advanced camera development technologies and long experience. It is a model that offers a higher level of completeness as a next-generation flagship camera, and expands the possibilities for professional photographers who always require the best possible performance in severe environments, particularly those in the fields of sports, press, and nature photography, as well as advanced amateur photographers looking for greater power of expression in their photographic works.
As Nikon's new flagship model, the D4S will offer advances over the Nikon D4 digital SLR camera that include even better image quality enabled by adoption of a new image-processing engine, and more advanced autofocusing performance.
B&H will have details regarding the new Nikon D4s, including availability and pricing, on the Nikon D4s B&H product page http://www.bhphotovideo.com/c/product/1024081-REG/nikon__d4s_digital_slr_camera.html as soon as they become available.
B&H Photo Video is a qualified Nikon Authorized dealer with the most up to date Nikon product information, product pricing and promotional offers.
Connect with B&H Photo on the web. (Facebook, Twitter, Tumblr, Google+, Pinterest, Flickr, YouTube, B&H Insights & InDepth)
About B&H Photo Video
As the world's largest source of photography, video and audio equipment, B&H Photo-Video is known worldwide for their attentive, knowledgeable sales force, and excellent customer service, including fast, reliable shipping. Visitors to the website can access a variety of enlightening articles and educational videos. B&H has been satisfying customers worldwide for close to 40 years. http://www.bhphotovideo.com/