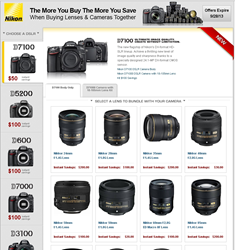 Photography Update: Nikon Instant Savings on DSLR Camera and Lens Bundles—Now Available at B&H Photo Video
NYC, NY (PRWEB) September 03, 2013
B&H Photo Video, a qualified Nikon Authorized Dealer with the most up-to-date Nikon product information, product pricing and promotional offers, is pleased to share with photography professionals and enthusiasts the latest instant savings on Nikon DSLR Camera—Nikkor Lens Bundles. See all deals at: http://www.bhphotovideo.com/c/promotion/10385/nikon-buy-together-and-save.html
Nikon rebate promotions include the D800, built for today's multimedia photographer, which incorporates groundbreaking 36.3MP FX-format CMOS sensor, Full HD 1080p video at 30/25/24p with stereo sound, a class leading ISO range of 100-6400, expandable to 25,600, 4 fps burst rate, and an Advanced Scene Recognition System with a 91,000-pixel GB sensor.
The Nikon D800 Digital SLR camera is more than a DSLR; it's a broadcast-quality video camera as well. Driving both still and video capture is the FX-format CMOS 36.3Mp sensor and the powerful EXPEED 3 image-processing engine. Backing up the heart of the camera, one will find an optical low-pass filter that reduces false color and moire, and an ISO range of 100-6400 that's expandable to ISO 50-25600 equivalent. Additionally, the D800 boasts 14-bit A/D conversion and 16-bit image processing. What's more, the camera's Nikon F mount accepts a multitude of NIKKOR lenses, included DX lenses and AF-S lenses.
The D7100 is the new flagship of Nikon's DX-format HD-SLR lineup. Achieve a thrilling new level of image quality and sharpness, thanks to a specially-designed 24.1-MP DX-format CMOS sensor. The D7100 is compatible with all NIKKOR F mount lenses, both DX and FX formats.
The Nikon D5200 Digital SLR camera is an HD-SLR designed to awaken the creative passion. Find exciting new perspectives with an ultra-high resolution Vari-angle display that swivels to nearly any position. The camera features a 24.1MP DX-format CMOS sensor and the EXPEED 3 image processor, to produce high-quality imagery while delivering fast performance to all camera functions. The combination of these two technologies results in a native sensitivity up to ISO 6400, which is then further expandable to ISO 25600. The processing speed of the EXPEED 3 also contributes to a fast continuous shooting rate of 5fps. http://www.bhphotovideo.com/c/product/910146-REG/nikon_1501_d5200_digital_slr_camera.html
The following Nikon lenses are also included in the instant savings promotion:
Nikon AF-S DX NIKKOR 18-140mm f/3.5-5.6G ED VR - $300 savings bundled with camera
Nikon AF-S NIKKOR 24mm f/1.4G ED Wide Angle Lens - $200 savings bundled with camera
Nikon AF-S NIKKOR 35mm f/1.4G Wide-Angle Lens - $200 savings bundled with camera
Nikon AF-S NIKKOR 35mm f/1.4G Wide-Angle Lens - $200 savings bundled with camera
Nikon AF-S NIKKOR 14-24mm f/2.8G ED - $200 savings bundled with camera
See the full Nikon list of savings at: http://www.bhphotovideo.com/c/promotion/10385/nikon-buy-together-and-save.html
Connect with B&H Photo on the web! (Facebook, Twitter, Tumblr, Google+, Pinterest, Flickr, YouTube, B&H Insights & InDepth)
About B&H Photo Photo Video
As the world's largest source of photography, video and audio equipment, B&H Photo-Video is known worldwide for their attentive, knowledgeable sales staff, and excellent customer service, including fast and reliable shipping. Visitors to the website can access a variety of enlightening articles and educational videos. B&H has been satisfying customers worldwide for nearly to 40 years. http://www.bhphotovideo.com/