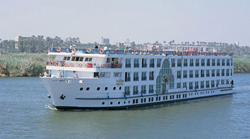 'The ideal time to visit Egypt is during the winter months when the temperatures in Egypt during daylight hours are comparable to a summer's day in the UK. -- John McCallum, Managing Director
(PRWEB UK) 1 September 2014
Thousands of years of history are brought to life by highly qualified Egyptologists, our modern day escorts to the Kings and Queens of Egypt. Throughout the year a Nile cruise is the best way to experience all the sights and sounds of the river and visit the ancient sites of the Pharaohs. These include the tombs of the kings in the Valley of the Kings, the fascinating temples of Karnak and Luxor, the awe-inspiring temple of Kom Ombo; plus the best preserved temple in Egypt at Edfu and the beautiful temple of Philae recovered from the Nile and situated on a stunning island of the same name.
Orbital Travel Nile cruise programs are a great value throughout the year with a seven night 5* cruise during September 2014 on full board basis sailing from Luxor / Aswan / Luxor with twelve excursions including an on board Guide/Egyptologist from £669.00PP including UK flights. Three and four night cruises are also available starting at £599.00 per person for a three night 5*cruise on full board and from £629.00 per person for a four night 5*cruise on full board during September 2014 on full board both 3 & 4 night cruise includes excursions programs and a Guide/ Egyptologist plus flights from the UK.
The Managing Director of Orbital Travel, John McCallum commented, 'The ideal time to visit Egypt is during the winter months when the temperatures in Egypt during daylight hours are comparable to a summer's day in the UK. All our high quality cruisers offer excellent value and with a full programme of excursions enhanced by ideal weather conditions, we are able to showcase the sites of this fascinating land'.
All our cruises can be combined with stays in the ancient capital of Egypt, Cairo where the opportunity to visit the Pyramids of Giza and the Egyptian Museum of Antiquities gives more of an insight into this historic country or a relaxing stay at one of the Red Sea Resorts.
About Orbital Travel:
Orbital Travel is an independent Tour Operator and has been operating since 2003. They are Nile Cruise specialists and also offer tailor-made holidays to the Indian Ocean and Cyprus. Recently added Croatia coastal cruises and European river cruises to their product portfolio.