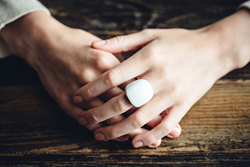 We believe Nimb is a step in the right direction to make the world a safer place.
Los Altos, California (PRWEB) June 21, 2016
Nimb Inc.'s Kickstarter campaign to raise funds for Nimb, a smart ring that alerts selected individuals with the wearer's GPS location and information, went live today and is looking to secure $50,000 to help bring their product to life. Nimb puts personal security into the hands of the wearer in an easy-to-use, inconspicuous way, creating a safer environment for the wearer and those around them.
Nimb is more than just a fashion accessory. The smart ring silently alerts preset contacts and those in the Nimb community of an emergency once the "panic button" has been held down for three seconds. If a wearer is forced to move or even kidnapped, Nimb will track their location in real-time and dispatch information to a response team. It also serves as the ultimate witness with audio recording functionality that automatically collects evidence through the user's phone once the alert has been sent. From natural disasters to health scares and personal attack situations, Nimb seeks to make every situation safer.
"In the U.S., an individual is attacked every two minutes, and we just can't live with a statistic like that and not do anything about it," said CEO and Founder Leo Bereschansky. "We believe Nimb is a step in the right direction to make the world a safer place."
Nimb's battery lasts up to two weeks without recharging and protects against mobile phone loss, gently vibrating when the wearer's phone is too far away from them. Nimb is also the fastest way to call for help when it's needed because, unlike some other safety devices, Nimb can send out an alert to preset contacts from the mobile app with just the touch of a thumb. Once the "panic button" has been pushed, Nimb provides vibration feedback to let the wearer know that a message has gone out and help is on the way.
Perfect for parents and families, it's impossible to miss an alert from a someone if two or more individuals are wearing Nimb. As long as Nimb is being worn and an alert is sent, all individuals on a user's preset contact list will be sure to feel the vibration.
Nimb is simple and stylish and comes in Stealth Black and Classic White and U.S. sizes 4-12. The first 150 Kickstarter backers can pre-order Nimb on Kickstarter for $75, which is 50% off the market retail value. Two Nimb rings will also be available at $149 for those who wish to give one to a friend, family member or significant other to keep them safe. For more information about Nimb, visit http://bit.ly/NimbKickstarter.
ABOUT NIMB INC.
Based in Los Altos, CA, Nimb Inc. is a team of bright-eyed enthusiasts, united to launch the Nimb campaign. The team spans multiple disciplines including hardware, software, finance, marketing, communications and product design, who all seek to produce the best products that brilliant minds can deliver. For more information, visit http://www.nimb.com.