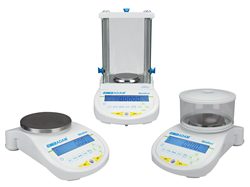 With the introduction of the Nimbus series, Adam Equipment continues its mission to continuously deliver weighing equipment with superior value to professionals worldwide.
Danbury, Conn. (PRWEB) March 18, 2014
Designed with scientists in mind, the Nimbus series of balances offers 15 models that deliver a full breadth of precision readabilities ranging from 0.1mg to 0.1g.
Innovative design enables a compact footprint, so it occupies minimal space but retains the highest level of performance. The Nimbus base is formed from a single piece of extruded aluminum, a material that provides superior temperature regulation. The single-piece construction offers greater stability, enabling highly repeatable results.
The weighing sensor in the Nimbus is crafted from a single block, and contains fewer parts than a traditional force motor balance. This optimized internal mechanism is fabricated using hardened materials, helping the Nimbus tolerate rigorous laboratory use. Highly efficient mechanics, plus improved processing power of the electronics, leads to excellent performance.
Software for the Nimbus provides all the features necessary for the demands of everyday lab work. With 10 weighing units, including a customizable unit, the Nimbus capably handles parts counting, percentage weighing, density measurement for liquids or solids, and dynamic/animal weighing. Intuitively designed, the navigation buttons are large and color-coded, helping users operate the balance and perform functions with minimal training.
The Nimbus delivers comprehensive communication capabilities. Data collection and transmission is optimized with the Nimbus's USB and RS-232 interfaces, while a third interface allows for an optional remote display.
Nimbus analytical balances with 0.1mg readability are equipped with a glass-enclosed weighing chamber, which disassembles quickly for easy cleaning. Nimbus precision balances with 0.001g readability come with a round glass shield to help minimize the effects of air movement. Top-loading balances with readabilities of 0.01g and 0.1g are available in a selection of platform sizes and can be powered by rechargeable batteries for operation in the field. Text prompts reminding users of the function/weighing mode are easily visible on the backlit display.
With the introduction of the Nimbus series, Adam Equipment advances the performance level of its precision and analytical balances. Adam remains dedicated to its mission to continuously deliver weighing equipment with superior value to professionals worldwide.
Currently stocked in limited quantities, the Nimbus will be generally available in April throughout North America and Latin America.
About Adam Equipment
For more than 40 years, Adam Equipment has designed and manufactured precision balances and scales for professionals worldwide in the laboratory, medical, education, industrial, food, animal/veterinary and jewelry markets. Adam is committed to offering an extensive selection of weighing equipment with best-in-class value. Headquartered in the United Kingdom, the company has strategically established offices in the United States, South Africa, Australia and China to provide product support and speedy delivery to distributors. For more information about the company and its products, go to http://www.adamequipment.com.