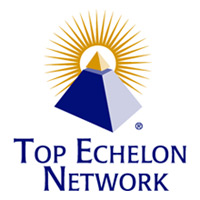 The addition of nine new agencies indicates a healthy interest in joining a recruiter network and making split placements.
Canton, OH (PRWEB) September 13, 2013
For the past 25 years, Top Echelon Network, an elite recruiter network of highly specialized search firms, has helped recruiters make split placements. One of the ways the Network has accomplished this is by ensuring that only split-minded, experienced recruiting firms become Preferred Members.
As a result, not every recruiting agency that applies for membership in Top Echelon Network becomes a Preferred Member. Early in its existence, the Network adopted a four-step screening process for admitting recruiting agencies. Those four steps include the following:
1. Application
2. Interview
3. Screening
4. Reference checking
After being accepted, each Preferred Member agency is expected to achieve a defined level of success within the Network (i.e., make split placements) in order to maintain its membership status.
Top Echelon Network recently welcomed nine recruiting agencies to the ranks of its Preferred Members during the month of August. By joining Top Echelon, the nine agencies listed below are committed to making split placements:

Alliant Management Professionals, LLC in Columbia, Maryland
Applied Staffing Solutions in Reno, Nevada
Candidate Ready in Santa Clara, California
CARMAC Executive Recruiting in Commerce Township, Michigan
CKM Staffing, Inc. in Roseville, California
David Alexander Morales in El Paso, Texas
Lincoln & Creed in Denver, Colorado
Management Performance Associates in Kirkland, Washington
The Candidate Combination in Chicago, Illinois
Top Echelon Network Membership Development Coordinator Drea Codispoti, CPC/CERS is responsible for screening the recruiting agencies that apply for Preferred Member status. Codispoti took the nine agencies above through all four steps of the screening process and granted them admission into the Network.
According to Codispoti, the Network is experiencing an increase in the number of agencies applying for Membership.
"The addition of nine new agencies indicates a healthy interest in joining a recruiter network and making split placements," said Codispoti. "We expect the number of applications we receive to remain at a high level throughout the rest of this year. We typically experience an increase in interest during the fall and winter, and we're excited about the potential and possibilities for continuing to grow our recruiter network."