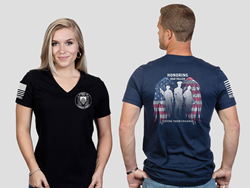 "When our military or first responders make the ultimate sacrifice, their children deserve our support. Through this partnership with Nine Line Apparel, we are able to offer a very special shirt to those who step up to donate monthly and help us provide healthy outlets for some amazing kids."
COLORADO SPRINGS, Colo. (PRWEB) November 27, 2018
Veteran founded nonprofit Angels of America's Fallen (Angels) and veteran founded patriotic life-style clothing brand Nine Line Apparel are thrilled to announce a co-branded line of shirts honoring our fallen military and first responder personnel, with proceeds going to support their children who have to grow up without the guidance and support of their hero.
Nine Line Apparel began supporting Angels of America's Fallen earlier this year through a portion of sales of a limited edition shirt. They raised $15,000 and promoted awareness of the challenges children of our fallen face by sponsoring the Angels logo on the hood of NASCAR driver Jeffrey Earnhardt's car during the Coca-Cola 600 race in Charlotte, NC Memorial Day weekend. The names of 617 of our fallen military were listed on the hood, with the name of the father, Army SPC George Manis, of two children supported by Angels over the driver's door.
Available now on the Nine Line Apparel website and Angels of America's Fallen website at http://www.aoafallen.org are t-shirts and a hoodie featuring red white and blue American flag colored wings with silhouettes of fire, military, and police personnel, and the saying "Honoring our Fallen, Serving their Children". A portion of the proceeds from the sale will be donated to Angels to engage children nationwide in healthy activities such as sports, music, and arts as positive outlets for their grief.
For a limited time, until December 31, Angels has a national monthly donor campaign where anyone who signs up to donate $19 a month or more will receive an exclusive code they can use on the Nine Line website to receive one of the special shirts for free.
Not only will Nine Line and Angels offer opportunities for patriotic Americans to show their support for those who gave all for our country and communities, they will also raise awareness of the higher risks their children face of anxiety, depression, substance abuse, dropping out off school, and even suicide. Greater awareness and increased funding will allow Angels to provide positive outlets for the children to pursue and develop their own identity outside of being a child who tragically lost their parent.
"We are very excited and extremely grateful Nine Line Apparel has partnered with Angels to support children whose parent made the ultimate sacrifice," said Joe Lewis, founder and CEO of Angels of America's Fallen. "We have seen children come completely out of their shell and have fun again after we engaged them in an activity that is exactly the fit for them. We couldn't provide those opportunities if great people didn't donate to help us support them."   
To join Angels and Nine Line's efforts in supporting children of our fallen nationwide, follow the #HonorandServe campaign on social media:
Facebook:
https://www.facebook.com/AngelsOfAmericasFallen
Twitter & Instagram:
@Aoafallen
For more information on Angels of America's Fallen, please visit https://www.aoafallen.org. For more information on Nine Line Apparel, please visit https://www.ninelineapparel.com.
About Angels of America's Fallen: Angels of America's Fallen is a veteran founded 501(c)(3) nonprofit filling the gap between initial grief counseling and college scholarships for children of our fallen military, police, fire, and EMS heroes. We empower children of our by engaging them in positive activities throughout their entire childhood. Support is provided to the children not just one time, but through a commitment to see them engaged positively in healthy activities such as sports, music, and other arts all year, every year, all the way through 18 years old without having to reapply. These provided activities have coaches or instructors who can help provide some positive mentoring the children are missing without the guidance and support of their fallen hero. We allow the children to try as many activities as required to find a passion that is a fit for them at their current stage of development, and they can change their activity as their interests vary while they grow. This allows them to develop their own personal identity, increase self confidence, and write their own story of success rather than growing up in the shadow of a hero. Although we cover the costs of their activities, our support is much more than just writing checks; we follow up with and encourage the children, and share in celebrating their successes throughout each year. This long term engagement is crucial for creating true lasting positive impact.
Through pre and post participation evaluations, our outcomes show a very positive trend. The parent's assessment of their child as being outgoing increased by 115%, assessments of the child's happiness increased by 60%, and their self-confidence increased by 55% after being enrolled. Middle school children's reporting of their self-confidence measured a high level with a mean score 95.6 out of 100. For more information, visit https://www.aoafallen.org.
About Nine Line Apparel: In the military, a Nine Line is a medevac request for a soldier that is injured on the battlefield. To soldiers, a Nine Line symbolizes patriotism, hope, and trust in one's countrymen. As a life-style brand, Nine Line Apparel aims to reinvigorate the sense of patriotism and national pride that is disappearing daily from our society. Where politics and dissent divide our country, we hope to inspire unity and brotherhood among all Americans as patriots under our common flag.
At its core, Nine Line is a give-back organization, forever striving to be our brother's keeper, and encouraging others to do the same. We support a multitude of initiatives beyond raising awareness, and financially back organizations that help those in need. From first responders to military charities to disaster relief initiatives, Nine Line is committed to ongoing support of charitable initiatives. No matter the circumstances, we've got your six. To learn more about our Foundation, please visit https://www.ninelinefoundation.org.
SOURCE Angels of America's Fallen
Related Links
https://www.aplos.com/aws/give/AngelsofAmericasFallen/donation