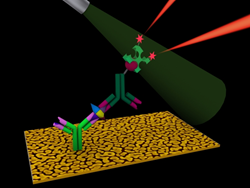 Palo Alto, CA (PRWEB) August 18, 2014
Nirmidas Biotech, Inc., a diagnostic research technology company, is announcing that it has raised $2 million in seed round funding to commercialize its fluorescence enhancing plasmonic gold technology, called "pGOLD." The technology platform, which significantly boosts the ability to detect disease biomarkers, is based on nearly a decade of research at Stanford University and is showing great promise as a diagnostic research tool in the life science and pharmaceutical fields. Nirmidas investors include a prominent VC firm, a life science angel investor, and the Stanford-StartX Fund.
With pGOLD technology, afflictions such as cancer, auto-immune disorders, cardiovascular disease, and diabetes can be detected at earlier stages and with better accuracy by creating non-invasive, point-of-care testing. Early detection could significantly change the nature and cost of patient care.
Dr. Hongjie Dai, the scientific co-founder of Nirmidas Biotech and Chaired Professor of Chemistry at Stanford, has published several academic papers about the technology. Dr. Dai's passion for pGOLD's potential to improve early detection outcomes and patient care led him develop market opportunities for his discoveries.
"Fluorescence is broadly used in diagnostic testing and biological research. Our signal enhancing technology simply makes it easier to see and detect various debilitating medical issues and diseases at the earliest stage possible. We believe it can be a real life saver," said Dr. Hongjie Dai, Co-founder of Nirmidas Biotech.
The core of the pGOLD technology platform consists of an ultra-thin, film-like fluorescence enhancing plasmonic gold coating and its proprietary application technique. pGOLD Chips and pGOLD Beads came to market in mid-March. The products offer near-infrared fluorescence signal enhancement over 100-fold. This enables increased sensitivity, higher signal to noise ratio, high degree of multiplexing, and improved specificity, potentially leading to more rapid and accurate early-stage disease diagnoses incorporated into wearable healthcare, a market that is estimated to eventually be in excess of $2 billion dollars.
"The early adopters have been very satisfied with how pGOLD Chips and pGOLD Beads address their immediate research needs. We've surpassed their expectations and inspired them to envision the boundless product extensions and applications," said Dr. Meijie Tang, CEO and Co-founder of Nirmidas Biotech.
As featured in prominent publications such as Nature Medicine and Nature Communications, pGOLD Chips and pGOLD Beads are now being commercialized by Nirmidas for the research community, the pharmaceutical community and other life science companies, as well as for in vitro diagnostic companies.
About Nirmidas Biotech, Inc.
Nirmidas Biotech, Inc., provides solutions for bio-analytical and diagnostic researchers using plasmonic gold (pGOLD) technology that vastly enhances near-infrared fluorescence signal, optimized over nearly a decade of research. Stanford Chaired Professor Dr. Hongjie Dai, a renowned nanotechnology expert, and Dr. Meijie Tang founded the Palo Alto-based company in 2013 with a vision for crafting innovative solutions to improve human life quality by developing breakthrough products at the intersection of life science research, in vitro diagnosis, and digital healthcare. Nirmidas is a resident at Janssen Labs @QB3 as well as StartX Med, a Stanford-affiliated nonprofit technology accelerator program. For more information, please visit: http://www.nirmidas.com.
About StartX
StartX is a 501(c)(3) Stanford-affiliated nonprofit in Silicon Valley that runs one of the world's top startup accelerator programs. Our mission is to advance the development of the best entrepreneurs through experiential education and collective intelligence. Since launching in 2010, we have supported more than 160 companies and 370 entrepreneurs across a wide spectrum of industries. StartX and StartX Med, dedicated to medical and biotechnology, provides founders with access to a powerful network of entrepreneurs, investors, mentors, and industry partners, along with office space and a variety of other resources. We are supported by Stanford University, Stanford Hospital & Clinics, Kauffman Foundation, Microsoft, Steelcase, Intuit, Blackstone Charitable Foundation, Greylock Partners, Draper Fisher Jurvetson, Sequoia Capital, Merck, Genentech, Johnson & Johnson and many others. For more information, visit http://startx.stanford.edu.