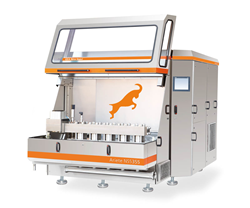 Bedford, New Hampshire (PRWEB) September 04, 2014
GEA Niro Soavi has developed the Ariete NS5355 to meet the industry demand for ultra-high capacity, energy efficient, and reliable high pressure for continuous production (24/7). The Ariete NS5355 quintuplex reciprocating pump can process high capacities up to 60000 l/h. and pressures up to 1500 bar.
The Ariete NS5355 is available with different compression heads: Monoblock and Multiblock VHP, suitable for very different production and application requirements, both designed with modelling systems CAD 3D, FEM and fluid-dynamic analyses.
The Monoblock head uses the NanoVALVE™, an exclusive patented technology from GEA Niro Soavi, which optimizes homogenization at lower pressures compared with normal valves, thus reducing energy usage and environmental impact. The NanoVALVE™ is designed to process low to medium pressures and increase efficiency and reduction of operating costs. The Multiblock VHP (Very High Pressure) compression head uses Re+VALVE, another GEA Niro Soavi innovation, a valve designed for very high pressures up to 1500 bar.
Multiblock VHP is entirely made of special materials that are wear resistant and capable of withstanding occasional or unexpected stress.
Other options available include automatic/remote operation of the machine
Air cooled oil cooler to reduce water consumption
Oil purification system to reduce down time and reduce operating costs
The Ariete NS5355, compliant to EU safety rules (CE standards), 3A standards and built according to EN ISO 9001:2008 Quality System, is well suited for applications in the food & beverage, dairy, biotechnology, chemical and cosmetic industries.
About GEA Niro Soavi:
GEA Niro Soavi is the global technology and market leader for high pressure pumps and homogenizers. Established in 1947 and part of the GEA Group – one of the leading engineering companies worldwide – GEA Niro Soavi maintains its leadership position through product innovation, reliability and local presence in order to satisfy customer expectations.