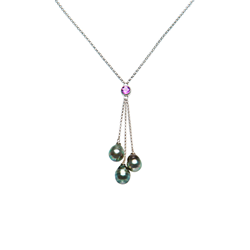 Montreal, Quebec (PRWEB) February 19, 2015
The amethyst is recognized as a purple variety of quartz and is a semiprecious stone that has been used in jewelry and accessories for centuries. The significance of amethysts dates back to ancient Greece where the stone has long been associated with Bacchus, the god of wine, and was thus believed to ward off intoxication.
According to the Gemological Institute of America, amethysts adorned the jewels of religious and royal authority and were even "considered equal in value to ruby, emerald, and sapphire."
The tradition of attributing amethyst as the birthstone for February persists and has inspired the fabrication of jewelry specially crafted for the February-born and amethyst lovers alike.
To celebrate this tradition, Nishi Pearls is highlighting cultured pearl pieces embellished with amethyst stones. These include a set of Tahitian pearl drop earrings and their matching pendant, designs that combine both gems to balance the pearls' unique green hues with the purple varieties of amethysts. The selection also features colourful cocktail rings adorned with different-sized amethysts and complemented by other gemstones such as garnet, created white sapphire and white topaz.
Nishi Pearls' online store features numerous pieces that combine cultured pearls with precious and semiprecious gemstones, with specially crafted designs to highlight the natural beauty of each gem.
The amethyst highlight will run on the Nishi Pearls website until the end of February. Stay tuned for their next gemstone celebration.
Nishi Pearls™ is a brand that specializes in designing and creating a wide range of genuine cultured pearl jewelry that creates the perfect marriage between classic and contemporary. With offices located in Asia, Canada and the U.S.A, Nishi Pearls has been making its mark at some of the most prominent international jewelry fairs including the Jewelers International Showcase, the Orlando Duty Free Show of the Americas and the Jewelers' Circular Keystone's (JCK) annual trade show in Las Vegas, to name a few.
Nishi Pearls' dedication to quality is reflected in its partnerships with leading professionals, including their latest co-branding endeavor with Swarovski as well as Air Canada's Inflight program. Their award-winning jewelry is inspired by the consumer of today and the fashion of tomorrow.
Visit them at: http://www.nishipearls.com/online/