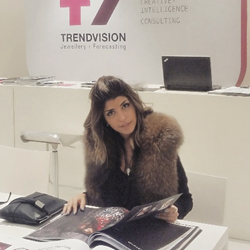 We have worked on collections that are ready to be launched at this year's JCK jewelry show and which incorporate many of these emerging trends and elements into our designs while remaining true to our brand
Montreal, Quebec (PRWEB) February 13, 2015
VicenzaOro is held twice annually and welcomes jewelry connoisseurs, designers and brands alike to exhibit and attend its fair in the city of Vicenza. Its January show garners the most attention and attendance.
For nearly seven decades, the international fair has housed hundreds of booths that display the finest and most innovative designs in the realm of jewelry, giving designers the opportunity to showcase their newest collections for the following year. VicenzaOro is recognized as a hub for previewing the latest trends in jewelry fashion.
Senior editor of JCK Magazine, Jennifer Heebner, observes how this edition of the fair has been reinvigorated by a new layout, updated decor and most importantly, influential jewelry trends for the near future.
Nishi Pearls has been pleasantly surprised with this winter edition's newly transformed and re-structured layout. The fair's venue has been renamed into "the New City of Jewels," has expanded to include a new pavilion and has been divided into eight separate districts. According to Alique Akkelian, Director of Product Development for Nishi Pearls, "it took some time to be re-familiarized with our surroundings but once we did, we realized that the show was much more organized and our time was put to better use."
Nishi Pearls' presence at VicenzaOro also included an attendance at a trend seminar presented by Paola De Luca, the Creative Director for TRENDVISION Jewellery + Forecasting, which focused on an in-depth discussion of product and trend directions for 2016. According to De Luca, these emerging jewelry trends can be more or less divided into four camps:
1 – Minimalist essentials: Defined by fluid lines, transparent materials and polished surfaces
2 – Exoticist: Inspired by nature and the environment, this style incorporates natural and organic materials, geometric floral shapes and raw finishings
3 – Romantic: Drawn to pieces infused with history, heritage and luxury and which are dominated by whimsical curves and floral motifs with modern angles
4 – Digitalist: Drawing on technology and incorporating innovative elements and techniques such as micro motifs, pixel mosaics and colour dilution
Following Akkelian's attendance for a third year in a row, her presence at the January show along with that of thousands of others, confirms how VicenzaOro has truly been a benchmark for the industry as it provides some of the best insights on trends to come. "What we noticed this year was the use of a lot of colour and alternative materials. For a tradeshow that usually focuses on classic luxury, we were excited to see materials such as leather playing a key role in many designs" she notes.
These observations confirmed that Nishi Pearls' product development efforts for 2016 are on the right track. "We have worked on collections that are ready to be launched at this year's JCK jewelry show and which incorporate many of these emerging trends and elements into our designs while remaining true to our brand."
Nishi Pearls™ is a brand that specializes in designing and creating a wide range of genuine cultured pearl jewelry that creates the perfect marriage between classic and contemporary. With offices located in Asia, Canada and the U.S.A, Nishi Pearls has been making its mark at some of the most prominent international jewelry fairs including the Jewelers International Showcase, the Orlando Duty Free Show of the Americas and the Jewelers' Circular Keystone's (JCK) annual trade show in Las Vegas, to name a few.
Their dedication to quality is reflected in its partnerships with leading professionals, including their latest co-branding endeavor with Swarovski as well as Air Canada's Inflight program. Their award-winning jewelry is inspired by the consumer of today and the fashion of tomorrow.
Visit them at http://www.nishipearls.com/online