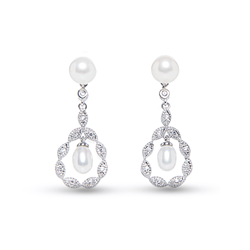 The pieces in these collections are embellished with an array of gemstones to showcase the versatility of pearl jewelry.
Montreal, Quebec (PRWEB) December 17, 2014
To add to the broad range of items on the Nishi Pearls website, the company announces the addition of new designs to provide avid online shoppers with an even greater variety of pearl jewelry.
A series of distinct collections were specially designed to explore the limitless potential of pearls. The pieces in these collections are embellished with an array of gemstones to showcase the versatility of pearl jewelry.
Amongst the release of these new additions there will be Hidden Halo, a glamorous collection that illustrates the lasting elegance of pearls with a slight modern twist. This collection features rows of genuine cultured freshwater pearls embellished with quartz and various shades of mother of pearl that stand as doublet centerpieces surrounded by a halo of white topaz. Sky blue and dusty pink are a few of the shades that are displayed in pendants, rings, earrings, bracelets and meticulously hand-knotted necklaces. Bold and celestial, the Hidden Halo collection features pieces that highlight the gorgeous iridescence of Mother of Pearl as it produces a subtle but charming effect.
The Bridal collection was especially designed to capture the magical appeal that a bride's wedding day holds for her. This collection incorporates vintage-inspired designs as well as sleek modern pieces that are tailored to appeal to traditional and contemporary bridal styles alike. Pendants, necklaces, earrings and rings elaborately dazzle with white topaz, sapphires and diamonds while genuine cultured freshwater pearls take center-stage. The necklaces are meticulously hand-knotted while a few select pieces possess 10KT and 14KT yellow gold accents. Balancing the dainty and classic with the bold and chic, the Bridal collection ensures timelessness and durability, as its pieces are crafted to preserve the tradition of passing one's jewelry to the next generation. This collection, moreover, is intended to cater to bridal parties as much as brides.
Nishi Pearls™ is a brand that specializes in designing and creating a wide range of contemporary genuine cultured pearl jewelry. With offices located in Asia, Canada and the U.S.A, Nishi Pearls has been making its mark at some of the most prominent international jewelry fairs including the Jewelers International Showcase, the Orlando Duty Free Show of the Americas and the Jewelers' Circular Keystone's (JCK) annual trade show in Las Vegas, to name a few.
Nishi Pearls' dedication to quality is reflected in its partnerships with leading professionals, including their latest co-branding endeavor with Swarovski as well as their collaboration with Air Canada's Inflight program. Their award-winning jewelry is inspired by the consumer of today and the fashion of tomorrow.
Visit them at http://www.nishipearls.com/online