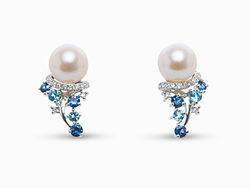 Montreal, Quebec (PRWEB) September 01, 2015
As a stone that has long signified opulence and nobility, many would be surprised to discover that sapphires come in a variety of colours apart from their vivid signature blue. These colored sapphires are called fancy sapphires and range in greens, yellows, pinks, oranges and more. They are less readily available than their popular blue counterpart which makes the everyday consumer identify the gemstone with its remarkable blue hue.
According to ancient folklore, sapphires were often treated as a talisman, believed to attract celestial blessings and protect its wearers from harm and envy.
Aside from their majestic disposition, sapphires are valuable for a number of purposes. With a rating of 9, their hardness ranks very high on the Mohs scale. Their hardness has allowed them to be useful beyond jewelry, where synthetic sapphires are used in spacecraft and to make the windows of supermarket scanners, among other things. While inclusions generally decrease the value of a gemstone, some inclusions can actually enhance a sapphire's velvety finish, increasing its value as a result.
Nishi Pearls' selection of pearl jewelry featuring brilliant sapphires includes elegant pieces with a modern appeal. Classic white studs complemented with bezel-set created white sapphires are among the selection. For a more glam look, alluring cocktail rings encrusted with colored gemstones such as amethyst or blue topaz are accentuated by the glittering presence of created white sapphires.
The Nishi Pearls website will be highlighting the regal beauty of this precious gemstone, enhanced by the natural elegance of pearls. Shop all sapphire items with a 25% discount for the entire month of September.
Nishi Pearls™ is a brand that specializes in designing and creating a wide range of genuine cultured pearl jewelry that creates the perfect marriage between classic and contemporary. With offices located in Asia, Canada and the U.S.A., Nishi Pearls has been making its mark at some of the most prominent international jewelry fairs including the Jewelers International Showcase, the Orlando Duty Free Show of the Americas and the Jewelers' Circular Keystone's (JCK) annual trade show in Las Vegas, to name a few.
Nishi Pearls' dedication to quality is reflected in its partnerships with leading professionals, including their latest ingredient-branding with Swarovski as well as their inclusion in Air Canada's Inflight program. Their award-winning jewelry is inspired by the consumer of today and the fashion of tomorrow.
Visit them at: http://www.nishipearls.com/online/