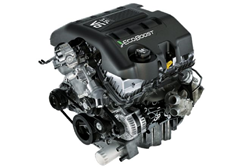 A complete compatibility test with the standard CVT transmissions has been completed to assure consumers of an easier installation
St. Louis, MO (PRWEB) August 24, 2015
The QR motor series that was unveiled by Nissan at the start of the 2008 year is now one block type that will be supported by the Preowned Engines company in the U.S. The import car parts inventory that is present at the POE website is now showcasing used Nissan 2.5L engines to the public at http://preownedengines.com/nissan-rogue-2-5-engine.
The blocks that are listed as in stock include the QR25DE engine. This edition was installed into the S, SV, and SL trim vehicles. The 4-speed dual overhead cam 2.5-liter is one of the latest inclusions in the foreign vehicle components inventory now being featured online.
"A complete compatibility test with the standard CVT transmissions has been completed to assure consumers of an easier installation," said a rep from the PreownedEngines.com company.
The used 2.5L Rogue engines that are available to purchase will be shipped out with the improved warranty plans that were announced last month. Consumers will be expected to activate every offered warranty plan to lock in the OEM parts coverage that is now available for foreign and domestic inventory.
"We are now building a more reliable research system to find newer and older motors, and in the meantime we have increased support for better warranties," said the rep.
The POE customer service department now features automotive experts that can quickly and accurately validate vehicle identification numbers before motors are ordered. Calls place to the national service phone number are now routed through this new department to offer a faster order checkout service.
About PreownedEngines.com
The PreownedEngines.com company has changed its regional suppliers that provide used condition vehicle motors to offer a broad inventory of components that consumers can buy in 2015. The PreownedEngines.com company has now added more JDM and foreign components dealers to its North American network of companies providing used condition auto parts for sale.