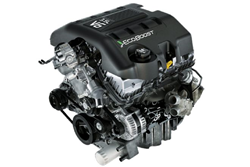 Our used Nissan Quest parts inventory now includes complete blocks that have been tested for mileage and condition
Seattle, WA (PRWEB) June 28, 2015
The partnership with Ford and Nissan in the early 1990s helped establish the Quest as a leading minivan model in the United States. Growth in the acquisitions department at the Got Engines company is now helping the company to supply more brands of 6-cylinder engines in 2015. Nissan Quest 3.5L engines are now available for purchase at http://www.gotengines.com/blog/nissan/nissan-quest-35l-engine.
The FF chassis platform that was introduced after the 2003 year provided the basis for the 3.5-liter V6 in the Nissan minivan series. The units that have been acquired by the GotEngines.com company for immediate sale include the VQ35DE editions that are paired with the CVT, 4-speed and 5-speed transmissions.
"Our used Nissan Quest parts inventory now includes complete blocks that have been tested for mileage and condition," said a sales rep from the GotEngines.com company.
The DOHC 3.5-liter builds that are now positioned for consumer sales this year are now shipped with the full warranty plan that was created this year by the Got Engines company. Changes to the policy will now protect nearly all of the OEM installed components that are on the block at the time of shipment.
"The inventory of Nissan motors that we are selling for the Quest, Maxima and other nameplates are part of our warranty coverage policies for consumers," the sales rep added.
The ordering center accessible offline at 1-866-320-1065 is now staffed by more motor experts. New hiring has been completed to help present more knowledgable sales staff to process American or Canadian orders faster by phone.
About GotEngines.com
The GotEngines.com company has remained a leading competitor in the sale and service of used vehicle motors since the year 2007 in the U.S. The company now presents thousands of motor blocks in its web inventory for consumers. The GotEngines.com company now accepts orders by way of its call center that is open seven days a week for car mechanics and car owners.