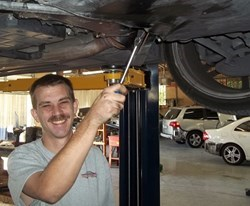 Linear Automotive provides affordable certified Nissan repair services that rival dealerships.
Plano, TX (PRWEB) January 27, 2014
First impressions mean a lot. Finding a quality certified Nissan repair center in Frisco, McKinney, The Colony, Plano, Richardson, and Allen is very important to most people wanting to keep their vehicle up with the manufacturers recommended specifications. Any Nissan owner will be pleased with the quality in the state of the art auto repair center at Linear Automotive. One visit is all it takes to find out why so many people rely on Linear Automotive for affordable services that rival any Nissan dealership, which is one reason that people refer to them as a Nissan dealer alternative. For more info call 972-633-2201 or visit the website at http://www.linearautomotive.com.
Linear Automotive recently upgraded the mechanical service areas, factory scheduled maintenance stations, and the paint & body shop to better handle the increased demand for Nissan repair services. New lifts were added to get more cars in the air, and more staff was added to help ensure each repair job gets completed in a timely manner.
The certified Nissan mechanics are ASE certified and can handle many services and can replace or repair alternators, batteries, starters, radiators, air conditioning, brakes, including brake pads, calipers, rotors, master cylinders, heaters, cooling systems, front end suspension, shocks, struts, water pumps, fuel pumps, steering pumps, fuel injectors, and more.
The certified Nissan body shop technicians are I-Car certified performing collision repair, frame straitening, repair for air bags, headlights and brake lights, body panels, bumpers, spoilers, fenders, hoods, grilles, liftgates, tailgates, rear doors, windshields, windows, tail lights, ground effects, and even custom paint jobs.
The certified Nissan factory scheduled maintenance services are perfect for fuel injection cleaning, filters, fluid flushes, brake repair & service, spark plugs, tune ups, cooling system flushes, timing belts and chains, transmission flushes, clutch replacements, multi point inspections, and more.
Anyone looking for Nissan hail damage repair and removal will be quite pleased with the affordable options. The paintless dent repair and removal service is available for all Nissan models. The shop accepts all insurances, helps with rental cars, and even accepts Nissan extended warranty contracts. For more info call 972-633-2201 or visit the website at http://www.linearautomotive.com.