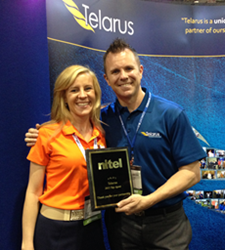 Nitel is our go-to supplier for internet access and phone service for companies and enterprises in rural America.
Sandy, UT (PRWEB) March 10, 2014
Telarus, Inc., distributor of commercial data, IP, voice, and cloud service and patent holder of real-time carrier quotes, today announced that it was named 2013 Top Partner by Nitel. This marks the seventh year in a row that Telarus has received this honor since joining forces with Nitel back in 2005.
"Nitel is incredibly adaptive to our agent's needs and will customize solutions in ways not many other carriers can," commented Patrick Oborn, Co-Founder of Telarus, Inc. "We look forward to many more years of being King of the Nitel stack."
Nitel leverages network data from over 130 carriers in the United States to enable optimal network design at the most competitive price. Nitel has relationships with every top-tier carrier in the country, including national and regional network providers, to maintain network and pricing data that translates into better solutions for our customers.
"We are very proud to be recognized as Nitel's top distributor for the seventh year in a row " added Lanny Gray, VP of Business Development for Telarus, Inc. " This is an honor we strive to earn because Nitel is so good to work with and has been from the very start. They constantly look for ways to help our partners make deals happen when other suppliers can't. Again, we couldn't be happier to win this award again and look forward to another record breaking year with our friends at Nitel."
Nitel CEO Rick Stern added, "We congratulate Telarus on another strong year. They have been an outstanding partner for the past several years. The entire Nitel team looks forward to another year of working together to bring value and industry-leading service to the Telarus team, its agents and clients."
About Nitel
Nitel is a facilities-based provider of reliable, secure telecommunications network services. Nitel's nationwide network leverages last-mile access from over 130 providers to achieve ubiquitous coverage, optimum network design and pricing for its clients. Through the first-of-its-kind MyNitel web portal and mobile app, clients enjoy the convenience of monitoring networks and managing ticketing in real time from their desktop or mobile device- part of Nitel's commitment to world-class client service. For more information about Nitel, please visit: nitelusa.com
About Telarus
Telarus, Inc., a value added distributor that holds contracts with the world's leading commercial telecommunication carriers, makes it easier and more profitable for solution providers, VARs, and MSPs to sell and source voice and data WAN solutions. Our patented GeoQuote platform combines real-time carrier pricing with advanced research features and branded proposals. Telarus' experienced Sales staff is strategically focused on enterprise WAN and high-capacity bandwidth solutions, making it easier to find the best offer, every time. For its part, Telarus has been named the top Master Agent by the members of the Telecom Association in each of the past three years, the first and only company in the carrier channel to accomplish this feat. Whether you are a top producer or a voice-and-data expert just starting out on your own, there is a place for you in the Telarus community. For more information on the Telarus partner program, please visit http://www.telarus.com or call the new partner hotline at 877-346-3232.