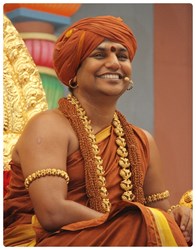 Don't be the mediocre, middle class, mass. Think, think, think, why suffering. Why marriage, why children, why sanyas, why life, why i am where i am, why i am doing what i am doing, why i am living what i am living. Question all your answers.
Los Angeles, CA (PRWEB) September 26, 2013
On the occasion of International Peace Day, His Holiness Paramahamsa Nithyananda blessed the world from his ashram in Bidadi, India, saying, "Let us all meditate and pray to the Ultimate Consciousness - let the peace which is there in Your center be in all of us! Let there be peace in the world." He was addressing a worldwide gathering of disciples and followers participating in the daily morning satsang (spiritual session), via 2-way video conferencing and on http://www.Nithyananda.TV.
For the past ten years, the young enlightened master, His Holiness Paramahamsa Nithyananda, has been working relentlessly for global peace through the transformation of the individual. He has been a strong motivator and inspiration to spiritual seekers to live at their peak possibility through the four universal principles of life - integrity, authenticity, responsibility and enriching oneself and others.
During his morning satsang talk on the occasion of International Peace Day, His Holiness Paramahamsa Nithyananda continued to educate the global community of spiritual seekers on the science of completion and motivated them to enter into action in the right zones of life.
'The zone from where one's cognition happens is the BEING, which is deeper than thinking. Responsibility should happen in one's being - from the very space from where cognition happens. You are responsible for the whole cosmos, not just planet earth! You not feeling responsible towards the Whole is something seriously wrong.You don't need to DO anything; just decide from your being that you will feel responsible for the whole world. Suddenly you will see that your very thinking will have integrity, and all your actions will have authenticity."
About His Holiness Paramahamsa Nithyananda
His Holiness Paramahamsa Nithyananda is a world teacher in the science of living enlightenment. As a spiritual head of Maha Nirvani Peeth, the world's oldest apex body of Hinduism, he is revered as a living avatar (divine incarnation) by millions worldwide. He is the most-watched spiritual teacher on YouTube.com with more than 16 million views, and the author of more than 200 books published in 27 global languages. In 2012, Nithyananda was named among the world's top 100 spiritually influential personalities by renowned esoteric magazine 'Mind Body Spirit' from Watkins.
A spiritual genius with an enlightened insight into everything from management to meditation, from relationships to religion, and from success to spirituality, Nithyananda brings to us a wealth of practical wisdom, meditation techniques, kriyas and tools for lasting inner transformation. A trained yogi, a powerful spiritual healer and a siddha, Paramahamsa Nithyananda is working actively with scientists and researchers worldwide to decode the mystical yogic sciences of the East, including levitation, teleportation and materialization. In the past ten years, attempts have been made to map Nithyananda's extraordinary brain, energy levels, mitochondria and DNA, and the scientific fraternity is continuously stunned by the results of whatever they can evaluate.
His Holiness Paramahamsa Nithyananda conducts the 21-day Inner Awakening program, a spiritual retreat to help seekers across the world experience a taste of enlightenment. More information about this program is available on http://innerawakening.org.