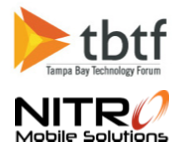 The Tampa Bay Area is not just a fantastic place to live and work, it's also a growing hub of technology and innovation
Tampa, FL (PRWEB) January 07, 2014
Nitro Mobile Solutions is proud to announce a strategic partnership with the Tampa Bay Technology Forum (TBTF). Nitro will be sponsoring 6 events over 2014, including the St. Petersburg Grand Prix in March 2014 and the TechStart Tech Jam in August 2014.
"The Tampa Bay Area is not just a fantastic place to live and work, it's also a growing hub of technology and innovation," says Pete Slade, Founder and CEO of Nitro Mobile Solutions. "We're excited to join with TBTF and be a part of a thriving local tech driven economy."
"In order for businesses to be competitive they must adopt a mobile strategy," Pete Slade continues. "Mobile has revolutionized the way businesses connect to their customers, suppliers and partners, and with our patent-pending mobile technology solutions, Nitro is uniquely positioned to help companies quickly adapt to the mobile world.
"We are thrilled that Nitro Mobile Solutions has become a key partner of the Tampa Bay Technology Forum. They have an excellent reputation along with an impressive client list that includes Fortune 50 clients," says Heather Kenyon, CEO of Tampa Bay Technology Forum.
About Nitro Mobile Solutions
Headquartered in Tampa, Florida Nitro Mobile Solutions is a leading mobile business system integrator providing mission critical technology solutions for businesses ranging from Fortune 50 companies to community banks and credit unions. We identify solutions that provide optimal business value to our customers.
For more information, visit http://www.nitromobilesolutions.com.
About Tampa Bay Technology Forum
Tampa Bay Technology Forum is dedicated to growing and promoting Tampa Bay's technology eco- system through events, education, networking, advocacy and philanthropy programs, providing targeted forums to bring technology and business leaders, investors, government, researchers and educators together. It provides a series of programs and events to advance the industry in the region, in the belief that the technology community holds the key to rapid economic advancement, and that it is Florida's manufacturing industry for the future. Today its primary mission is to impact unemployment in the area. For this reason, technology entrepreneurship is an important part of the Forum's overall strategy, and key to Florida's job growth. By focusing on these areas, the Tampa Bay Technology Forum community will be the driver for a new and stable economy in Florida.
For more information, visit: http://www.tbtf.org.