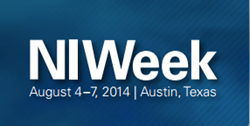 It's the best time all week to thank the LabVIEW champs that have saved your neck on the forums
Austin, TX (PRWEB) August 02, 2014
Sixclear, a National Instruments Alliance Partner specializing in LabVIEW Training and Development, gives 6 tips for NIWeek 2014 success.
Now in its 20th year, the annual NIWeek conference in Austin, TX draws an average of 3000 engineers and scientists from around the globe to learn and collaborate on automation, test, measurement, and control applications. This year's conference falls August 4-7.
Jassem Shahrani, Sixclear Co-founder, offers an additional 6 tips in addition to those published a few years ago. National Instruments itself trusts his advice, as he is the featured speaker in the NIWeek promotional video.
Tip #1:Keep your eyes peeled for Twitter tips!
Unofficial meetups, impromptu gatherings, once-in-a-lifetime occurrences are all yours to digest by simply keeping up with @NIWeek or #niweek on Twitter.
Tip #2: Plan, then back-up plan
LabVIEW Champion, Michael Aivaliotis, collaborated with a few others LabVIEW gurus on his VI Shots Live meetup to create an unmissable list of recommended NIWeek presentations. However, the fire marshall may not condone your plan to just walk into these at the moment they begin. They'll be popular, so either be early, or have a good backup plan! What's the best way to plan backups? Take a look at the next tip…
Tip #3: Use the mobile app!
Like showing up to an empty room? Or realizing with bewilderment that a speaker is talking about a totally foreign subject ? Plans change, sometimes last minute, grab the mobile app, stay up to date, and easily see your personal schedule after you log in.
Tip #4: The LAVA BBQ
It's the best time all week to thank the LabVIEW champs that have saved your neck on the forums. An unofficial event that's gotten so big, NI now features it in the official program. Pay before Aug 4th to save 5 big USD. Plus, with more door prizes than attendees, you're bound to come out ahead, and be well fed. Then, win Sixclear's Fitbit One door prize to work off all that Texas BBQ.
Tip #5: Streaming is the key(note)
Last year, NI started streaming the morning keynotes online. If you followed the previous tips and network late into the night, then set your laptop alarm to wake you to the sounds of the morning keynote from the comfort of your bed. Of course, even those who can't attend the conference can take part.
Tip #6: Symposia! Fora! Summits!
Are you a (big) physics nerd? Do you have your eyes on the next big technical horizon? Maybe you didn't know about the Big Physics Symposium, the Cyber-Physical Systems summit, or several others that happen during NIWeek. You may have to take an elevator and walk to the other side of the convention center, but these events are well worth your attention.
Shahrani welcomes visitors with more questions to swing by booth 436 for more NIWeek tips and information on Sixclear LabVIEW Training and development.
About Sixclear
Now celebrating its sixth year anniversary, Sixclear is a development and integration company offering LabVIEW courses, development, integration, and consulting in the automation, test, measurement, and data acquisition space. Besides offering the only fully self-paced, e-learning online LabVIEW training in the world, Sixclear offers a customizable LabVIEW course presented live in the classroom.