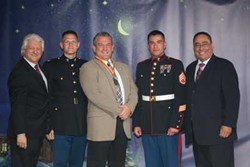 Our gifts offer these children hope, recognition and a positive memory they will cherish for a lifetime
(PRWEB) December 18, 2013
Belmont Dental Associates, co-sponsor of the Toys for Tots Literacy Program, announced today that it recently participated in a fundraising event to help reach a milestone of raising more than $5000 to help US Marines provide Toys For Tots Literacy Program. With marketing help from Route 72 this year has become a complete success.
As the first year-round initiative of the Marine Toys for Tots Foundation, the literacy program offers the nation's most economically disadvantaged children direct access to books and educational resources. This helps enhance their ability to read and communicate effectively, enabling them to compete academically and succeed in life.
Belmont Dental and Dr. Lembo helped drive the Toys for Tots Literacy Program by identifying local organizations that serve less fortunate children. Route 72 provided digital email campaigns to local residents with a great outcome. This year held the funding record thanks to so many willing donations.
The Marine Toys for Tots Foundation is a not for profit organization authorized by the U.S. Marine Corps and the Department of Defense to provide fundraising and other necessary support for the annual Marine Corps Reserve Toys for Tots Program. Now in its 65th year, Toys for Tots provides joy and a message of hope to less fortunate children through the gift of a new toy or book during the Christmas holiday season. Our gifts offer these children hope, recognition and a positive memory they will cherish for a lifetime. Many of the gifts we provide, such as books, games and sports equipment, make a significant contribution to the educational, social and physical development of these children. In 2011, Marines distributed gifts (to include over 1.4 million books) to 7.2 million children in 729 communities nationwide. The Marine Toys for Tots Foundation relies on individual donations from the American public as well as support from corporate sponsors. Dr. Lembo and the Route 72 Systems team is extremely glad to bring smiles to so many children's faces during this holiday season.
For more information on the Toys for Tots Literacy Program, visit http://www.toysfortots.org/literacy.
Learn more about Belmont Dental, visit http://www.belmontassociatesnj.com.