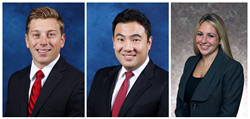 We are very excited to welcome these new associates to the Wilentz family
Woodbridge, NJ (PRWEB) September 30, 2014
Wilentz, Goldman & Spitzer ("Wilentz") is pleased to announce the hire of three new associates Jason J. Krisza, June Y. Lee, and Jenna N. Shapiro to the NJ law firm.
"We are very excited to welcome these new associates to the Wilentz family," said Brian Molloy, Managing Partner of Wilentz, Goldman & Spitzer. "They bring a wealth of innovation and knowledge to our firm."
Jason J. Krisza is an associate on the Business Law and Healthcare teams. Mr. Krisza practices general corporate law, including the formation and structure of business entities. He drafts governing documents such as By-Laws, Operating Agreements, Membership Interest Purchase Agreements, and amendments thereto, as well as negotiates stock and asset acquisitions, shareholder and employment agreements, and reviews commercial real estate leases. Mr. Krisza's practice focuses on the representation of healthcare professionals, group practices, hospitals, ambulatory surgery centers, management service organizations, ambulatory care facilities and nursing homes.
June Y. Lee is an associate on the Environmental and Land Use teams. Prior to joining the firm, Mr. Lee was the law clerk to the Honorable Kenneth J. Grispin, Presiding Judge for Civil Division in the Union Vicinage. While attending law school, he interned at the United States Environmental Protection Agency (Office of Regional Counsel for Region 2, New York, N.Y. & Office of Enforcement and Compliance Assurance, Washington, D.C.) and Section of Environmental Permitting & Counseling in the New Jersey Attorney General's Office. Mr. Lee is a member of the New Jersey and New York State Bar Associations and the Middlesex County Bar Association. Mr. Lee received his Ph.D. from Harvard University and graduated cum laude from Lewis & Clark Law School.
Jenna N. Shapiro is an associate on the Family Law team and practices in both the Woodbridge and Eatontown offices. Ms. Shapiro is certified in Mediation and Conciliation Skills as well as Collaborative law. Ms. Shapiro serves as a parenting coordinator and mediator, both privately, and by Court appointments. Ms. Shapiro specializes in all areas of matrimonial law including, child support, custody, alimony, equitable distribution, post judgment issues, and domestic violence proceedings. Ms. Shapiro is a member of the Monmouth Ocean Inns of Court, Family Division, Monmouth County Young Lawyers and the New Jersey and Monmouth County Bar Associations. Additionally, Ms. Shapiro is involved with the Hayden Proctor Inns of Court where she sits on the Executive Committee, as well as NJ State Bar Association Family Section Executive Committee.
About Wilentz, Goldman & Spitzer, P.A.
Founded in 1919 by David T. Wilentz, the New Jersey-based law firm is committed to its clients and the legal profession, and has been at the forefront of numerous landmark cases and precedent-setting decisions. Wilentz has a diverse practice, serving both individuals and businesses with their legal needs. The firm offers legal services throughout the New York Metropolitan area and Pennsylvania with offices in Woodbridge and Eatontown, New Jersey, New York City, and Philadelphia. For more information about Wilentz, Goldman & Spitzer, visit http://www.wilentz.com.
Wilentz, Goldman & Spitzer is celebrating its 95th anniversary in 2014. It has been a privilege to serve clients for more than nine decades and the firm looks forward to continued success in the years ahead.