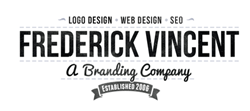 NJ Logo Design Company, Frederick Vincent Announces Addition Of Logo Gallery
NJ, New Jersey (PRWEB) September 22, 2013
Frederick Vincent, a New Jersey-based SEO provider offering a variety of services to the New Jersey and metro-New York business community, proudly announces the addition of a gallery of custom logos on their new website, http://frederickVincent.com.
The logos within the gallery, all created by Frederick Vincent based on consultation with each company, provide prospective customers with an idea of the creative process and capabilities of the design staff. Working with each client, Frederick Vincent's design team gathers info about the wants & needs of the client, their culture and business goals and designs a logo that represents the client business in a way that is memorable and easily recognizable.
The logos produced by Frederick Vincent and available to view on their website represent the wide range of industries and vertical markets the company has worked with. Among these industries are food & beverage, education, traditional medical practices, faith-based organizations, wellness centers, apparel companies, masonry and specialty crafts. The companies within these vertical markets have expressed great satisfaction in the expertise and talents of the Frederick Vincent team.
Frederick Vincent approaches each project with a combination of marketing expertise and design excellence, exhibiting a deft touch in working side-by-side with their clients to meet the exacting needs of each company. This is based on the understanding that not only is a logo something that is intended to be memorable but in many cases can come to define the character of a company. With this in mind, each project is approached with an equal mix of technical skill and enthusiasm to not just meet but exceed the client's expectations.
As knowledge of the work Frederick Vincent has generated for clients in New Jersey and through-out the Metro-New York area increases, the team believes that more potential clients will come to them seeking to tap into the energy and creativity that Frederick Vincent clients have come to expect. With the desire by companies and organizations to create unique branding to round out their marketing efforts, working with a company like Frederick Vincent where logo creation is part of their broad list of marketing services enables clients to get the one-stop shopping feel that helps to create a unified message.
Frederick Vincent is a full-service SEO provider also offering web-site design, logo design, printing and screen printing services to the New Jersey business community as well as business located throughout the metropolitan area. For businesses seeking a consultation and quote, they can contact Frederick Vincent via their website.
Frederick Vincent
(201) 688-3221