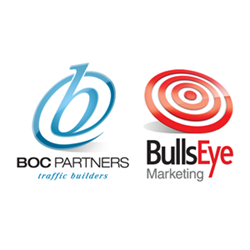 In a deal reportedly worth in excess of $4 million, BOC Partners, a full-service, New Jersey-based advertising agency has acquired digital ad agency, BullsEye Marketing.
Westfield, NJ (PRWEB) December 17, 2013
In announcing the merger, BOC Partners President/CEO, Britain O'Connor said he is happy to welcome the BullsEye operation into the BOC organization and pleased about the important expansion of online digital services it represents for all BOC clients.
"It's hard to believe that until 1996, ads weren't even allowed on the Internet," says O'Connor. Today, online advertising is a substantial, for some the central part of most advertising campaigns. It has been estimated that in 2012 Internet advertising revenue in the US was $36.57 billion, a significant percentage of the total $169.48 billion spent on all media in the US in 2012. In the first half of 2013, Internet ad revenue set a new record, exceeding $20 billion.
Thinking back to the mid-1990's, O'Connor says he was "fortunate to recognize the beginning of the online advertising revolution," and made it his business to learn everything he could about advertising on the Internet, so he could stay ahead of the curve.
With that mindset, O'Connor took particular note of BullsEye Marketing, which was started by B. Alan in 2005.
BullsEye Marketing's initial days coincided with the increased call for online advertising, which helped spur the company's dramatic growth. Offering a full array of online services – SEO, SEM, Database Marketing, Banner/Network Placement, Website Design and more – BullsEye enjoyed success right out of the gate.
Now, BullsEye Marketing's online ad campaigns, many utilizing their own proprietary programs, are in 40 states. They have 30 employees, who are Google AdWords Qualified, Microsoft Ad Excellence Members and Yahoo Search Marketing Ambassadors. Their advanced geocentric techniques ensure their clients success and that each online asset and investment is optimized.
In 2009, BOC Partners began using BullsEye Marketing as a vendor to augment its in-house digital staff. "The demand was increasing at such a rate, we needed skilled labor to hit the ground running to overcome the challenges of scalability," explained O'Connor.
The relationship was productive and Britain O'Connor got to know B. Alan and his people and liked the way the two companies worked together.
In 2012, O'Connor began to formulate a plan that would allow him to meet the increasing digital needs of current and future clients and maintain his agency's dominant position in online advertising. He would explore the possibility of acquiring BullsEye Marketing.
BOC Partners is a story of progressive growth. In a market that was once dominated by traditional advertising, BOC has been able to adapt to the digital revolution and not just maintain its market share, but increase it. The agency managed this feat through the recent recession and the decline of print advertising, two sea-changing events that occurred at the same time.
Early on, BOC Partners established an enviable reputation for savvy buying and exceptional creative work in TV, Radio, Outdoor, Direct Mail and Print. By the time online advertising had become a major factor, BOC was already a leading proponent and provider of digital ad solutions.
O'Connor says his agency was able to accomplish this "through our knowledge of the marketplace, our enduring relationships with our clients, and our tenacity to adapt to solutions that often were new and untested, but worth bringing to market."
While many other ad agencies lost billing and clients during the difficult recessionary times, BOC was successfully adding clients and digital solutions, and is today able to fund the acquisition of such a well-known digital company as BullsEye Marketing.
According to O'Connor, "The addition of BullsEye Marketing to BOC Partners is a win, win, win situation." First and foremost, says O'Connor, the clients of both agencies will benefit from the synergy of the combined talent and skills of the two companies.
For BOC, O'Connor says he will now have in-house unlimited access and the scalability necessary to provide the most aggressive online solutions from a proven digital operation.
For his part, Alan of BullsEye says that he and his people are "thrilled to be a part of such a solid organization." And, he says, they are excited to have the opportunity to provide first-class, traditional advertising to their existing clients, while working with a client base much larger than they could have obtained on their own in the foreseeable future.
To avoid client conflicts, both companies will remain autonomous, but will draw on each other's resources for the benefit of their respective clients.
BOC Partners is located at 1030 South Avenue West in Westfield, New Jersey. To learn more about the agency, call Britain O'Connor at 908-232-2177, Ext. 14, or visit BOCPartners.com.