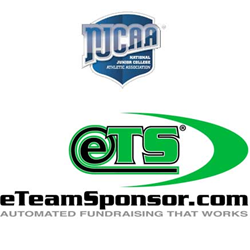 eTeamSponsor's technology and services have proven to raise revenue for a wide-range of athletic programs across the country and we are excited to watch them continue their success with our member colleges.
Colorado Springs, Colo. (PRWEB) October 30, 2014
The National Junior College Athletic Association (NJCAA) and its multi-media rights entity NJCAA Sports Properties announced today that it has signed a three year corporate partnership agreement with eTeamSponsor. Per terms of the agreement, eTeamSponsor will be recognized as the Official Fundraising Partner of the NJCAA.
eTeamSponsor provides athletic programs the tools to raise much needed revenue quickly and efficiently via its automated email, social media and mobile technology. eTeamSponsor's platform and services has proven to raise significant revenue for collegiate athletic programs with no out-of-pocket costs or monthly fees, while allowing supporters the benefit of a full tax deduction.
"We at eTeamSponsor are proud to have raised over $1 million in the two-year college athletics market and look forward to continuing that level of success with member institutions of the NJCAA. eTeamSponsor is a collection of former college student-athletes, coaches and administrators who understand the importance and challenges of fundraising at the two-year college level. Our system, designed by coaches for coaches, is continuing to meet the needs of fundraising decision makers including athletic administrators, advancement & development personnel, foundations and coaches. Our mission is to deliver the most effective fundraising platform, with best-in-class technology and unparalleled success to our NJCAA partners now and into the future."
NJCAA member colleges will be provided discounted pricing on software and service packages from eTeamSponsor as part of the partnership.
In addition to earning the title as the Official Fundraising Partner of the NJCAA, eTeamSponsor will also be recognized as an official sponsor of the organization's eligibility seminars organized twice a year by the NJCAA National Office in Colorado Springs, Colo., and attended by athletic directors, coaches and support staff from across the nation.
"Anytime the NJCAA can partner with a business or company that can make an immediate impact on the budgets of our member colleges we will listen," explained NJCAA Executive Director Mary Ellen Leicht. "The fact remains that administrators and coaches from a large portion of our membership are being asked to fill in the budgetary gaps with fundraising. eTeamSponsor's technology and services have proven to raise revenue for a wide-range of athletic programs across the country and we are excited to watch them continue their success with our member colleges."