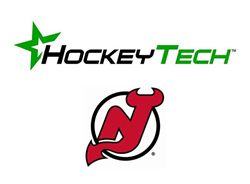 The Devils are excited about our new relationship with HockeyTech
Waterloo, Ontario (PRWEB) September 24, 2015
HockeyTech, the worldwide leader in hockey-related technologies, analytics and information services, announced today the addition of the New Jersey Devils to its RinkNet Scouting and Player Information Platform. The long-term deal marks the 30th and final NHL Club to adopt RinkNet, a service widely recognized for its deep and rich data on hockey players at all levels.
"The Devils are excited about our new relationship with HockeyTech", comments Ray Shero, General Manager of the New Jersey Devils. "We look forward to taking advantage of the services RinkNet has provided to NHL teams for the past 17 years."
RinkNet, a service of HockeyTech, was originally founded in 1998 by now HockeyTech Chief Operating Officer Jim Price and has become the go-to technology for hockey scouting and player information management. The platform provides hockey teams, leagues and related organizations with access to daily updated rosters, schedules and player information for virtually all leagues worldwide. Teams count on HockeyTech technology to manage their proprietary player evaluations from their scouting and coaching staffs.
"We're pleased to welcome the Devils to our platform, who under Ray Shero's leadership look to continue their long tradition of winning", Price commented. "I had an opportunity to meet with their entire scouting staff recently to kick-off their use of our system, and we are looking forward to a successful relationship with this impressive group."
Having recently expanded its content team, the company remains focused on providing the deepest, richest, and most accurate data available anywhere. HockeyTech is working towards the next generation of the RinkNet platform, which will enhance the user experience and provide more features and functionality than ever before. Over the years, the RinkNet platform has grown to include over 3,500 hockey scouts, coaches and management personnel with literally a who's-who of the hockey word using the system on a daily basis.
About HockeyTech
HockeyTech is the worldwide leader in providing hockey-related technologies, analytics and information services. HockeyTech was founded in 2012 by Stu Siegel, serial technology entrepreneur and former Florida Panthers Managing Partner/CEO, to address the lack of technology tools available to the hockey world. The company has grown rapidly, and has made five company acquisitions to date. While HockeyTech is a new corporate identity, it has been providing cutting-edge solutions to the hockey world since 1998. The company counts amongst its customers nearly every premier league, team, and governing body in North America including: all 30 NHL teams, USA Hockey, Hockey Canada, AHL, ECHL, CHL, USHL, NCAA teams, and many more.
HockeyTech Website: HockeyTech.com
FOLLOW HockeyTech on Twitter: @HockeyTech
LIKE HockeyTech on Facebook:Facebook.com/HockeyTech
END
###